10 Fast Fingers Typing
Been typing like lightning. How fast are you? Test here. :)
Oh, and not to forget my current record, 103 WPM!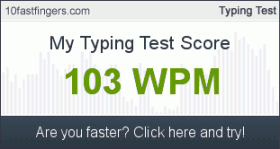 I should probably mention that I don't type properly either. I mean, I don't type with every finger on each hand, it's more like 4 Fast Fingers for me, but I don't think that handicap shows does it? :D If I learned how to type properly I could probably give that amount a mighty boost though.
Theoretically I should be able to more than double my typing speed with the proper placement and all fingers in use. Wouldn't that be something?! This site is the perfect place to learn typing properly too. Will give it a try if I get any time left over. Later.