Push (2009)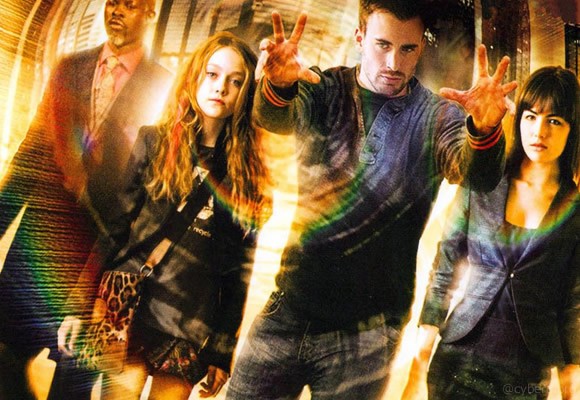 In this world, some people are born with special powers. There's a government agency called The Division which takes care of these people, and trains them as soldiers. There are all types of special powers here. We have watchers who can see the future, pushers who can make their ideas the truth, movers who can move objects, shadowers who can make things disappear, bleeders whose screams make people bleed, etcetc. It's almost a bit too much for a simple movie, but they explain it well in what feels like an overly elaborate introduction. Turns out it's a very useful introduction.
The story starts with one particular kids earliest childhood memory: seeing his father die at the hands of The Division. He escapes, and we flash forward to the present, when years later a little girl comes knocking on his door asking for a case.
This is how it all starts. The vicious head of The Division, Henry Carver (played by the always villiany Djimon Hounsou) is on their tales, but Nick (Chris Evans) has many friends, and together they go against The Division to... to do what really? Save Cassie's mom? Put an end to the worldwide terror people with powers are involuntarily made part of? Just escape, and go back to their normal lives? There are some potential plot holes, and it is a bit strange how they don´t always get killed (or even injured) despite common encounters with their enemy, sometimes managing to escape even when there should have been none, but there´s just enough excuse for each one moment to not let it bother too much. The plot overall is clever, and the action sequences pretty cool to watch.
The movie takes place mostly in Hong Kong and breaths and air of budget... and yet some scenes go way over the expected budget effects. Though it's not a tremendously memorable or amazing flick, the story is good, and the idea original, and the action is good. It's a creative; compelling action flick with no too notable flaws. Good watch.
rated 3/5: not bad