Raw Deal (1986)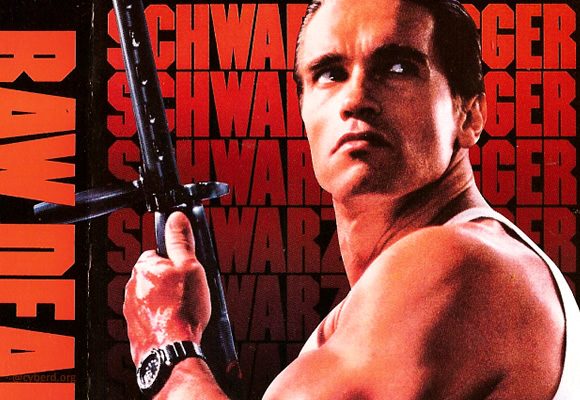 Here's an old Arnold Schwarzenegger movie from the heyday of gritty tough guy movies like this one.
It's the story of a former FBI agent turned small-town sheriff, who goes undercover with the Chicago mafia to help a friend, whose kid they've killed, and when that friend's shot up as well it turns into a real personal vendetta.
The showdown's brutal. No mercy. No long-drawn dialog. No stereotypes in action, and authentic-looking (and probably authentic) stunts. It's refreshingly gritty when it matters, and the action's never far away. The bonds between characters are easy to understand, and maybe it's also their simplicity that make them feel believable. There are plenty of other faces you'll recognize from the time period too, like Paul Shenar, Robert Davi and Ed Lauter, and they do a good job at providing that gritty, underground, criminal vibe that goes with their villainy.
As you know acting isn't really Arnold's strong point - or at least it wasn't back then, but the relations in this movie are relations that work, and it's not those you're watching this for anyway, it's the raw deal. The embodiment of authentic gunblazing eighties type action with no frills, and Arnold - the perfect protagonist for this blend of film. If that's what you're looking for, this is exactly that.
rated 4/5: fo shizzle