60 Watched VHS Reviews
Dark Harbor. Crappy thriller. If I don't remember wrong, the plot was similar to Cape Fear (listed above).
Dead Or Alive. When I watched this movie I didn't know who Rutger Hauer was, but I know now! He's an awesome dude, and this was... a pretty good movie. Not to be confused with the slightly more modern DOA flick with chicks (which was much much better and totally different).
Deathrace 2000. If you've seen the newer Death Race movies there's really no reason to go back to the old. Apart from some interesting costumes and cars... it sucks. Crappy everything from what I recall.
De Sista Äventyrarna AKA The Last Adventurers: A movie about a couple of old dudes venturing into the jungle in search for adventures! That's about as much as I remember about it... which is more than I remember about most of these so I assume it was OK. :)
Down To Earth. A Chris Rock comedy about life and death and decisions. It was OK.
Who hasn't heard of Dune? Dune 2000 was a legendary game, and the movie might've been one of the earliest game to movie adaptions ever made. The sceneries were elaborate and the futuristic technology far from rusty and rustic, even though it did have to abide by the technical limitations of the time in which it was made. Thus not the most surreal and inspiring experience, albeit a fairly interesting one.
Empire. A story of drugs, crime and corruption featuring this one actor I don't recall the name of but like the movies of. It was good!
End Of Innocence. I always confuse this one with the 'End of Days' with Arnold Swharrzehowdoyouspellthatnegger. Can't recall much of it.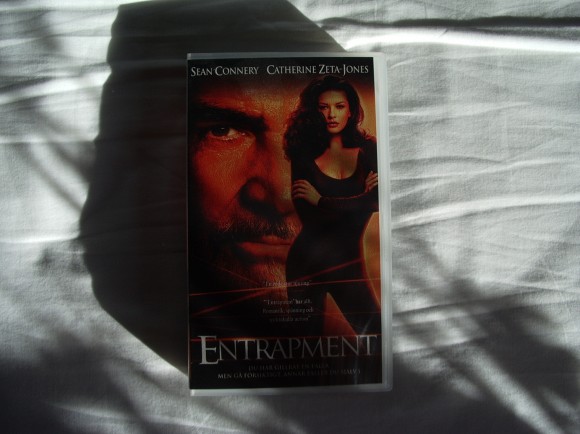 Entrapment. Here's a good action flick for a change, the type of movie I'd spend most of time watching these days, featuring Sean Connery and some other actors, IDK, featuring a grand heist and all that stuff. It wasn't the best, but it was good!
Evolution. I remember sex and a strange; violent future Dystopia. Hmm...
Face/Off! Though I'm typing in these mini-reviews (if you can call them that) through the code editor, with the cover images displayed only as unimpressionable strings of text and URL matter, I can recall this cover clearly. It's a black background, with two faces, and in large red/white text 'John Travolta' aaand... I had to take a peek for that second name: Nicholas Cage! It's like Double Impact, but with different actors. There's the good guy, and the bad guy, and one of them changes his face. From my hurried description it might not sound like it, but it was: a good movie!
Future Murderer. Crappy B-movie thriller.
Gunnar Govin. This is supposedly a Swedish comedy, it was sold at such a low price (a few cents a piece) that I had to buy it though I knew I had no intention of actually watching it. One day I pondered watching it, looked up a few crap reviews and flushed the idea. No disrespect to Gunnar Govin, but it just didn't feel very inspiring. Relevant future note(s) to self: Don't waste cents, follow instincts, live your life, have a nice day.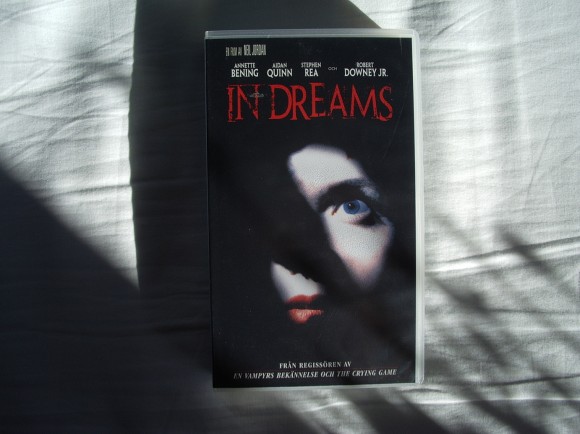 In Dreams. Not sure about this one. I think it was good, but memory's fuzzy... it's like I watched it in dreams...
Aw yeah, oldskool hardcore action featuring the one and only DMX! In Too Deep. I don't think I've seen a single movie of his I didn't enjoy, and this was no exception. Wait a minute, it wasn't DMX, it was LL Cool J! Same thing with him I guess.
Maybe you've seen Mirrors? This is the movie it was based upon, a true horror movie in traditional Asian packaging. It has blood, gruesome, creep, surprising; all of those things you need for shock value. Add to that a superb script dealing with the history of mirrors and the potential for a parallel world behind them, and you have a masterful movie that makes you look just a little suspiciously at yourself next time you happen to glance at your reflection. Or maybe start avoiding mirrors completely.
Jönsson Ligan is probably not a series of movies most of you humble visitors know about (I'm assuming here that most of you humble visitors are from America - which my visitor logs show), but if you live in Sweden you'd know it's a classic! Jönsson Ligan is that band of theifs and crooks and criminals (well, there's just three of them, usually) which never get caught, but never really get away either. It's one of few Swedish series of comedies I've always enjoyed watching, and I've probably seen the entire series a few times over by now. It's been a while. Wouldn't mind seeing this one again.
Knockaround Guys is a story about some of those tough guys who work for Mafia guys. Good watch.