Best Of The Best (1989)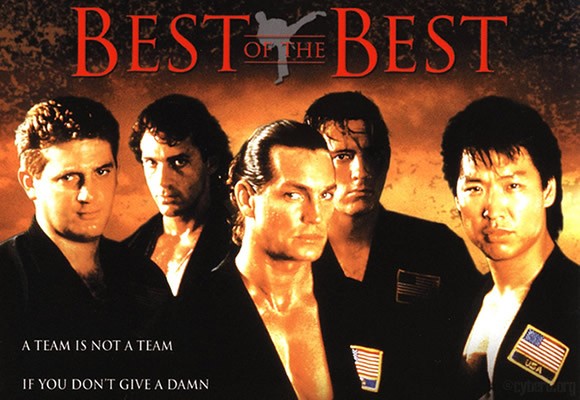 Heeey, another movie from the year of years that I still hadn't seen! It's the story of a Taekwondo tournament (USA VS Korea... I guess this was a time when there was no North or South), featuring (amongst others) actors/fighters Eric Roberts, Phillip Rhee and Simon Rhee. Phillip Rhee is one of those guys that starred in one series of movies and then just disappeared, but he's a fighter (also director and producer)! As is Simon Rhee. Fighter, I mean. A level 7 Taekwondo black belt. I wonder if they're related...
The acting may not be the best, the training doesn't always seem the most serious (even it has an inspiring Rocky-type 'you-can-do-it' undertone) but the fights are for real. This at a time when martial art movies in general, or rather martial art movies in the US usually featured super-finishing-crane-kick-type Karate Kid super moves and not very hardcore martial arts at all. But I'm glad to see there were exceptions... even if they still dealt with certain stereotypes to cater to the American audience.
The final battle between US and Korea is one to look out for. Maybe one to skim for if you don't feel like watching the rest of the movie, but I did enjoy it all. The training is more corny than seriously straining, and the characters are stereotypes of their time and trade, but you do bond with the guys throughout their struggles! As they strive for the win, to become the best, of the best, of the best? It's a test! And this is the first in a quadrilogy of movies so I'm looking forward to those too. Good watch.
rated 3/5: not bad