Fat Tuesday 2021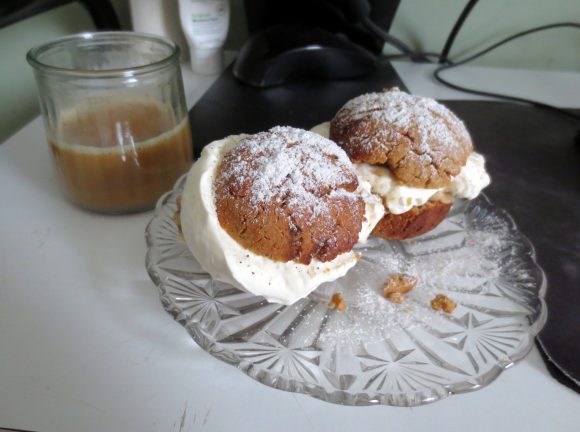 It's that day again! Or was, this Tuesday, just been a bit too swamped to post any pics.
Of course we're still going according to tradition though, this year with a batch of home-baked oat-based buns that'll probably be lasting at least a couple weeks. No commercial ones this year.
They didn't turn out exactly as planned - a bit more flour than necessary and as such a bit more compact than they may have been meant to be but - still good. Soon as you add in that cream and almond honey.
Happy Belated Fat Tuesday y'all.
The Work Thing
Midlife crisis? Work-related crisis? Life-related crisis? Whatever the crisis my vice is: thinking too much about this.
I can't keep work off my mind even during the weekends lately, and I wonder if that has to do with working from home so much, and not differentiating between locations for free time and work time. It's not ideal, but driving to the office everyday's not ideal either. Not for finances, nor for time, nor for the potential health detriments that might come with all too much mobility in these crazy times...
But the problem isn't really that work's always on my mind. The problem's the work. I'm not working with something I fundamentally enjoy, and somehow I seem to have moved further and further from the realm of optimal creative design, and more monotone but acceptable regular IT work and administration, to the realm of server administration, command-line, and digging through code and trying to figure out how it works as to solve company problems I'm not really qualified to deal with...
It's taking a toll. And dues pile. I don't feel like I'm getting anywhere, and that I'm being underappreciated for what I do manage to do considering the overwhelming complexity of all the more of an effort I make to actually keep up with it.
I have years worth of education within the field of design and basic programming languages linked to web-related ditto. I'm self-taught initially. I honed my skills with further university level learning. I love design. And content. I love tinkering with sites like this. I tried a C++ course once and realized that wasn't my thing, yet the gap between design and code these days seems to be shrinking. Not only do the same agencies deal with both - with combined efforts from programmer/designer side - but plenty of talented individuals really delve as deep into one side of the business as the other one. The old cliche that programmers focus only on the functional aspects of something - and how the design always comes second and ends up looking like shit - doesn't seem to apply anymore.
Maybe for some. I don't see it though. Everyone's hella talented these days.
I've never considered the opposite as much. That those who consider themselves primarily designers might focus all too much on the visual, and that their work instead ends up lacking in functionality. Does that apply? I feel like functionality's a part of design too. Interface design is a thing. It just might be my specialty. Though implementing desired interface functionality in code if it isn't there already, if you don't have a programmer to help you with it, is another beast entirely.
Maybe I'm just not cut out for this kind of work.
Computer work.
I doubt by the burdens that pile, and observe for a while, it's so verdant outside, as I curl in denial, always bursting with rhymes, never searching to fly, only biding my time while the vultures come circle. A circle of jerks.
I'm a worldly observer.
But really though. Stressed out.
Don't want to let the company down, but can't keep going like this all too long either. Energy depletes, focus becomes a challenge, getting up in the morning's difficult, I try all sorts of self-affirmation tricks but no serious meditation yet. Momentary experimentation only goes so far. D-vitamin no longer seems to be the cure-all for my winter depression... cause this no longer has much to do with winter does it? No darkness is due. Our weather's beautiful. Both sun and snow for three weeks now. It's incredible. I should be so uplifted.
Nor do the cold showers kickstart me as they initially used to. Nor does coffee work as a viable replacement for that kick - it just gives me a headache if I skip a cup, and deep-breathing, music, writing, all this shizzle... it's not enough! Not when I'm not actually doing something about my great hurdle; keep on letting it grow to unsustainable proportions. Some day it's gonna fall.
My job. Such a central part in life. Whether it's me or them - or a combination thereof - I need to either regain a sense of purpose and peace or get the fuck out of here. Find something that truly matters. That gets me where I want to be. That lets me feel free. Or more so just: let's me feel.
Something good. Something real. Something that syncs with my ideals.
For now though: venting. This work thing. Lamenting. I'm searching. But spending. Still maybe a bit too much time on other things... but some of those are grueling too. Overload. The usual cue. No true solution, so do I brood. Hopefully, slowly, moving through. Work.
Musicalish #297
How about some Gorillaz again? With a dose in particular from their to me most memorable album of pre-millennium times. If they had any others.
I don't know about you but these guys always get me in a better mood. Somehow they make angst and melancholy all melodic and... somewhat soothing after all. And around this time I could use a round of this kind.
Ride through, the old and the new, the bold and the few, ride on...
In The Blink Of An Eye
Been posting a lot of depressing videos lately. Time for something hopeful!
Though I guess this is a glass half full/half empty kind of video.
Either you see how much you miss in each blink of an eye, or more so how much awesomeness is going on even in that most minuscule amount of time, that repeats itself so many a time throughout every single day!
And compared to that, how much awesomeness doesn't go on all the time your eyes are open?!
It's pretty awesome. Every blink. Pretty awesome.