Crocodile Dundee (1986)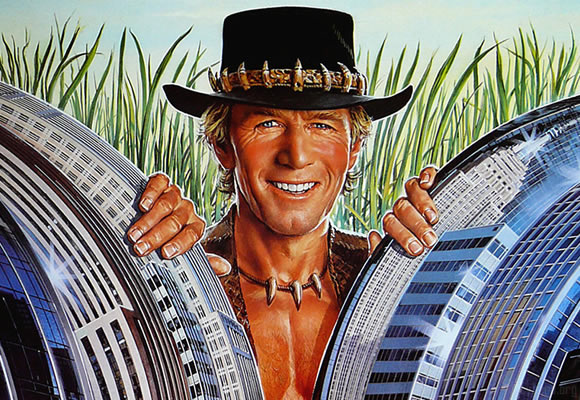 Sue Charlton travels to Australia to do a reportage on a man known as Crocodile Dundee, who lives out in the timeless scrubs, was raised by Aborigines and once had a near-fatal encounter with a Crocodile. She has him show where he was attacked, and they go for a short walkabout in the wild. She asks him to come with him to New York City, and that he does; as it's his first time in a big city (well, his first time anywhere), that turns into quite an adventure too!
Paul Hogan is a great actor, charming and chill, honest and a little shrewd, and Linda Kozlowski isn't bad either. It turns into somewhat of a love story halfway through (they actually got married for real after the second movie), but with this movie I don't mind, it's not overly corny and its all but boring. There's plenty of nature, a little wildlife, a few fights and random encounters, but most of all there's Mick - Crocodile Dundee - a man who lives the simple life and makes friends with everybody he meets. It's all a very likable and down-to-Earth story, fun, laid-back, philosophical and lovable all the same. Both main characters are very likable and easy to understand too. Might be my second or third time watching this movie, but time hasn't changed it a bit. It's like a modern-day Tarzan with a twist, and without all that unnecessary tension or tragedy. Great watch!
rated 4/5: fo shizzle