Crouching Tiger, Hidden Dragon: Sword Of Destiny (2016)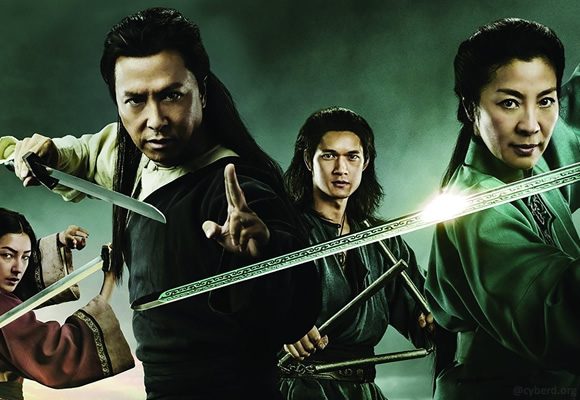 Crouching Tiger, Hidden Dragon is back! I loved the old one, and though this was a big step away from that (mainly because they all speak English now) it wasn't bad. The martial arts and artistic angles are as great as ever. Donnie Yen and Michelle Yeoh are both here, although only Michelle was in the original. They seem to link a part of the story to the original, yet that link is not at all how I remember it... most particularly: did any one of the original characters really live?
The original was a sad story, albeit beautiful, and this keeps going in the same trail, albeit a bit brighter, and conclusively. You could see this as an Americanized sequel. It's the story of lost love, young love, a legendary sword and one last opportunity at redemption...
...with a few other known martial artist actor names like Woon Young Park and Harry Shum Jr. Natasha Liu Bordizzo is relatively new, but plays her role as Snow Vase well. To protect the sword from a clan who wants to wield its power for the wrong reason, this group and more gather together to protect it... all for different reasons.
There's a lot of silent stepping. Romance. Melancholy. Fighting. It looks good, both the surrounding nature, the architecture, and the characters, and some scenes like the fight on the lake was particularly inspiring.
It seems similar, but... it's not the same. The intrigue is simpler. The relations sometimes seem almost superficial in comparison. Overall... it just doesn't have the same feeling as the original. It's a sequel for the sake of a sequel, where no sequel was ever planned, and no sequel would ever suffice, with a plot and cast aimed at a new audience. It doesn't hold. It looks good, and is a pleasure to watch but... doesn't grip you any way the older one did. Some of the main actors aren't as authentic fighters as they were in the previous either, not to mention any names but... you'll see.
And yes, the cables are a bit much. Still close to a four but...
rated 3/5: not bad
It's the familiar case of this could have been a good movie on its own but they had to make it a sequel, and tarnish the memory of the original in the prospect of sales. I see no other reason.