Cyborg Cop 3 - Terminal Impact (1995)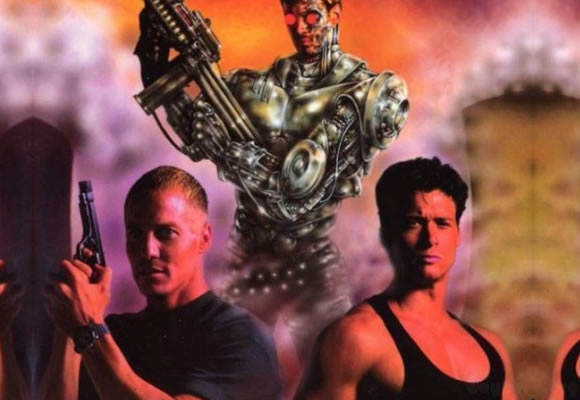 The third and final part of the Cyborg Cop saga featured two entirely new actors, entirely new to me as well as to the series, and a lot more comedy than in the previous ones.
It starts with a crazy chase by plane, and soon moves on and into a secret facility where Cyborgs are made through cockroach DNA. The cyborgs are resistant to radiation, to a lot of damage... and they heal pretty well too. In difference from the humanoid creations in previous movies their weak points are fire rather than electricity. Like cockroaches. If this wasn't a B-movie there'd be potential for a memorable quote right there...
It all starts for real when a female reporter gets into the Delta Tech facility (where these monstrosities are unknowingly produced) for an interview, but gets out in the hurry when her cameraman is killed, and of course stumbles into the waiting arms of our two main characters. They get chased (some pretty good car chases too - with trains and everything), get shot at, and eventually they do return the fire. *hint hint*
Apart from Cyborg Cop 3, this movie was also released as Terminal Impact, no doubt to distance the franchise from previous actors... but that doesn't mean it's any worse... or better, for that matter. I still consider the second the best part yet, but this was a fun flick, and just like the last one it features plenty of alternate action and sinister scheming. Not as much mighty explosions maybe, but plenty of driving! And flying! And fighting! B-movies at their best.
rated 3/5: not bad