Despicable Me (2010)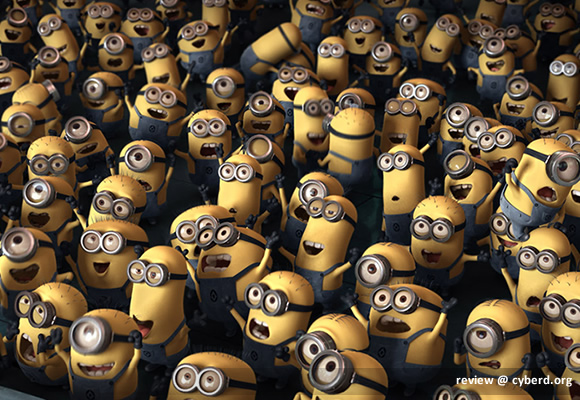 Watched this movie a while back, so here are my belated opinions on it, in simple forms.
It starts out good, the movie kicks off with a little intro sequence featuring the main character and a catchy hiphop tune with the movie title commonly used within it. The main character is a classical villain, always wanting to be as bad as possible (though in a nice classical-villain-y way) and the movie starts with someone (other than him) stealing the pyramid. He gets a bit depressed that there are apparently bigger villains than himself, and just then three kids knock on his door selling cookies. He shouts that he isn't home, and a beautiful friendship starts!
Along with the three kids, the arrival of an unexpected nemesis, his army of small yellow funny-looking creatures with goggles & a lot of strange high-tech equipment along with a white-haired professor the movie manages to deliver an amusing story of which the ending I shall not reveal.
It didn't really stun me though. It was well-animated, with a decent soundtrack, decent characters & a decent story... but somehow it just didn't have anything in it that let it surpass this decency level and rise up into the hall of fame for animated movies. Just another good movie, nothing more than that. I can't really relate to the characters, the emotions never get very tense within the movie (even though it looks like they tried)... yeah, it lacks something.
So why am I writing this review? Well, seems like the world thinks higher of the movie than I did. I enjoyed watching it, but it won't get more than a...
rated 3/5: not bad
Good movie, no more or less.