CyberDB Games Directory
Classic Abandonware and Freeware Gaming for FREE
5 Packs | 7 Games | 300+ Levels | 71 Mods | 376 Skins | 5 Programs | 50+ Extras
I'm OK [ 13 MB ]
" Based on Jack Thompsons Modest Videogame Proposal "
A brutal massacre of the game developers, gaming companies and game consumers await as you play the role of Osaki Kim. The father of a high school boy beaten to death with a baseball bat by a 14-year-old gamer. He is now seeking revenge against the source of computer violence, which he believes was the reason his poor son died. Make your way through a game developers house, game devloping offices and finaly E3, killing everyone you see. Also snipe little kids in the game stores and piss on your enemies. So Brutal that Grand Theft Auto seems like Sunday Funday. Enjoy!
DOWNLOAD
76 Downloads

Liero v1.33 PACK [ 3 MB ]
"The Classic Multiplayer Wormkilling Massacre "
The classic Liero game, created by some Finnish guy based on the popular game Worms. Equip yourself with 5 weapons of choice and fight against either a friend or a CPU. Dig and swing your way through the simple levels provided, or create your own with the included level creator. A simple timewaster, guarnateed to entertain you for hours and many hours more! Tons of extra levels, modifications, weapons, sounds, utilities and documentations included in this package.
NOTE! It does not work on Windows XP by default. If you are running Windows XP or higher read the Windows XP read me to fix eventual problems.
DOWNLOAD
51 Downloads
Liero X PACK [ 101 MB ]
" The next generation of Liero "
Liero Extreme. Improved graphics, improved functionality as well as much smarter CPU and online play. It also works on Windows XP, which Liero v1.33 does not. There are many Liero clones but this is probably the best one out of them all. This package includes all the different game versions and patches.
DOWNLOAD
46 Downloads
Liero X PACK 2 [ 100 MB ]
Extra pack for Liero X with 100 MB's worth of Levels, Skins and Modifications.
69 Mods/221 Levels/376 Skins
DOWNLOAD
56 Downloads ]
Liero X PACK 3 [ 11 MB ]
A bunch of extras, utilities and stuff for Liero X.
DOWNLOAD
24 Downloads
Stick Soldiers PACK [ 2 MB ]
" Stick Killing at it's best "
Play the role of a stick figure in a Liero inspired world. Small simple levels, lots of nice weapons, bloody blood, great gunfire effects and realistic sounds makes this an ejoyable experience! All game versions included and some mods/extras.
DOWNLOAD
67 Downloads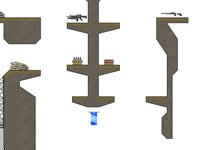 Urban : The Cyborg Menace [ 9 MB ]
" A military project gone wrong. "
You are a Cyborg gone rogue. Fight your way through massive military complexes and offices in your fight against the US government, army and agencies. Everything is a big bloodbath. There isn't much of a story, but you don't need one either. There are lots of weapons : miniguns, flamethrowers, rocketlaunchers, revolvers, machine guns, grenades . . . everything you could wish for.
Allthough this game isn't very known, it is, according to me one of the best games of all time!
NOTE! It does not work on Windows XP (try using dosBox or an older OS)
DOWNLOAD
42 Downloads
Worms Armageddon - Level Pack 1 [ 20 MB ]
One hundred extra levels to further enhance your game! With this many the fun will last virtually forever! Don't want that many? It's cool, you can download them levels as single files right here. Have fun!
DOWNLOAD
3 Downloads
All Games are abandonware or freeware. Which means legaly free for download! Enjoy!