GOG's Big Fall Sale Ending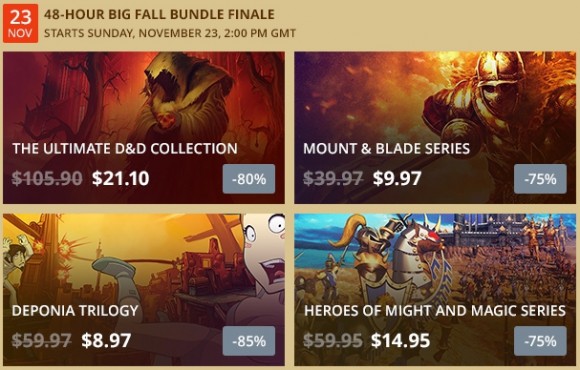 This thing is just about to blow over, but if you missed any deals (apart from the flash deals and that free Witchers 2 game) they're all up for grabs one final day. Today. Over here.
As always I spent more on this event than I expected to spend... considering I wasn't planning on buying anything. But whaddayaknow, there are still games I'd like to play someday that I don't already own! Attainable for a cheap price to boot! There was just no other alternative.

Aaand I did collect stamps all week to gain this much appreciated bonus. :) Witchers 2! Along with my first and probably last attained flick from their recently introduced movies section. I don't really see the appeal in watching gamers speak about games, or watch others play games, or speak about playing games. Though there are probably some pretty entertaining documentaries too.
Anyway, a little bug popped up the second day, preventing everybody from getting the new stamp unless they logged out and back in again. I wonder how many didn't read that forum post? I wonder how many wrote to support and had their stamp manually added? I wonder if the issue was taken care of quickly or if it was never fixed, but worked fine all other days... I wonder when next big sale is coming up! :D
Better get ready to Spring into action.