Good Will Hunting (1997)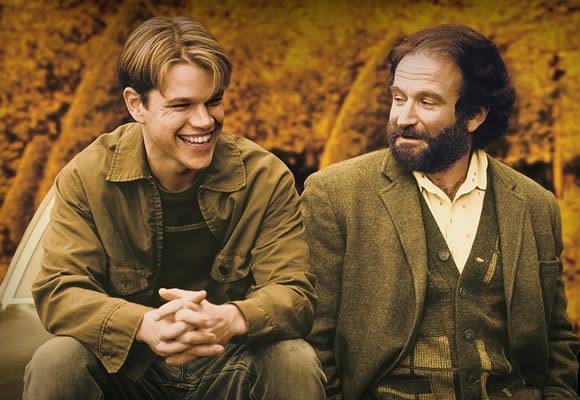 I remembered this movie as depressing, but it was really all but that, albeit with plenty of sad moments. It's a story of love, and friendship, and bonds, and relations, and hardships, and... life, I suppose? It goes through the motions, and emotions, and occasionally it gets pretty teary.
Matt Damon is Will Hunting, a janitor at M.I.T. with a knack for math, yet a traumatic past and a rap sheet that complicates the equation. Stellan Skarsgård plays Prof. Gerald Lambeau, a teacher who discovers his talent, yet it's Robin Williams as the therapist Sean Maguire who ultimately leads him on the right path - or at least tries to.
Will's best buddy Chuckie is Ben Affleck - and Ben's real younger brother Casey actually plays a younger buddy in the group! Apart from the odd trio of buddies there's also Minnie Driver as Skylar - a girl Will meets that turns his world around, and they both put on incredible performances. The IMDB synopsis sums it up so easily - as the story of a gifted boy going to a therapist to find his true calling, but it's so much more than that. It's an emotional rollercoaster. It's authentic, well-paced and personal. It's a moving story about just one regular Southie, who's scared of change - but has limitless potential: Good Will Hunting.
rated 5/5: friggin awesome