iMazing HEIC Converter
A few months ago I spent a few days in the little mountainous yet homely winter wonderland Östersund, with my brother and co, and my camera just happened to run out of battery during one of the most important phases of our stay: a Christmas fair. Fortunately my nephew had an iPhone with him, and the camera quality on that is not bad! He actually had two, so we could both take pictures.
Handy having an extra company phone sometimes, even if the reason for it in his case is that Apple don't have any phones with dual SIM. So if you need two numbers you need to phone.
Guess that's one way to sell some extra phones.
Another thing Apple aren't as good with is adapting to format standards, so instead of JPG or PNG or any of the regular image formats I'd usually expect, I ended up with HEIC.
Windows can't open these. At all.
I looked around a bit and found an explorer extension by the name of CopyTrans HEIC, that I installed just to be able to display them, but viewing the files was still a slow process, so in an attempt to sort through these files once and for all I dug a little deeper and found this. It looks like this:
In a perfect world it would have been portable too, but it's at least quick to install, and simple to run. You just load in (drag and drop) all your images and hit the button and there it goes!
And keeps going until...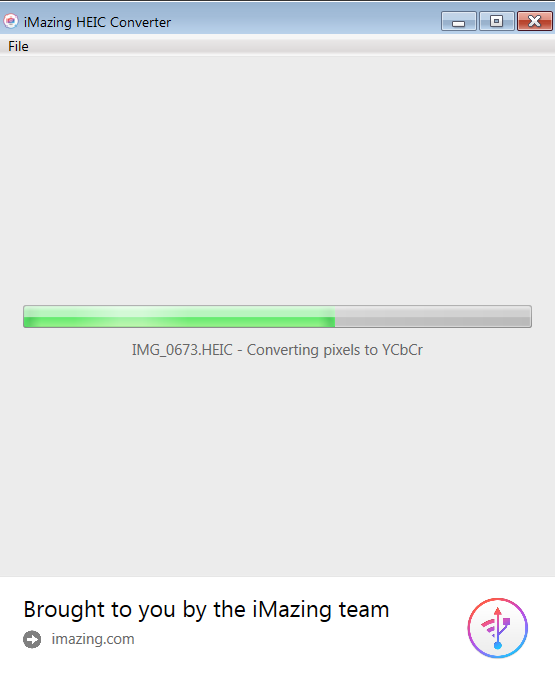 It's done!
Seems to be a few steps to the process - not like your typical PNG to JPG conversion - but the program is super simple to use, and so I thought I'd share it. If you're ever in a similar situation there's that link above.
The image quality turned out good, too. You can adjust the quality after file selection, and choose between PNG or JPG. I ran with the standard, and that turned out great. The color changes a bit along with the format, but I think it's actually to a warmer tone - quality otherwise remains the same.
I could post a comparison, but of course it'll be different depending on the file format and quality you choose. Best give it a run yourself if you're curious, and don't delete the source files until you're happy with them.
Also: if you haven't taken those photos yet, I think there's actually a setting to select the file format first. If you're looking to share those photos you might want to. HEIC is basically short-length video, which is pretty cool too, but if all you want are images it's also a lot of excess data and frame time you might not need. Next time I know.