Last Action Hero (1993)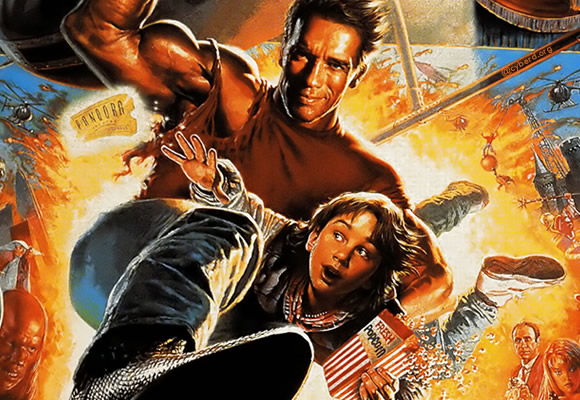 Arnold Schwarzenegger (Jack) and Austin O'Brien (Danny) play the slightly comedic adult/kid hero/sidekick combo in this quite spectacular cops and robbers piece of action! It starts as an action movie stereotype, with Arnold Schwarzenegger playing Jack Slater, invincible supercop, but soon moves to the movies, with Danny sitting on the front row munching a bunch of early morning popped corns, enjoying the show.
Via a magic ticket, Danny gets thrown into the movie, ends up in Jack Slater's backseat, accompanies him on a grand adventure through a Hollywood-like world of carnage and craze, and then back to the real world after a particular villain snatches the magic ticket and escapes, with a devious scheme in mind.
The filming's great, the plot, dialog; logic is flawless and easy to follow, and it's much more than just a run-off-the-mill action movie about action movies. They handle the stereotypes of the genre with style, all the while providing the creative onslaught of intrigue and action you'd expect, and then move back to the cold hard reality of the real world to show the contrast, the "world in which the bad guys can win"! But of course, this is a movie.
There's comedy and cartoony encounters, there are clichés, chases and showdowns, but there are also twists and pitfalls and unexpected depth for a movie that at a first glance seems to be just your regular family-friendly action flick. And at the end of it all, there's a message too: that the world is what you make it. That if life seems so much better in a movie, it's because you let it be.
The one piece of moral advice isn't the pinnacle of the show though, so I guess I'll type in a few more lines to conclude with what really is. It's the continuity of the plot; the clarity and cleverness with which it all progresses, and a large dose of professionally choreographed action (just don't mind that one bike stunt). Great watch.
rated 5/5: friggin awesome