Olympus Has Fallen (2013)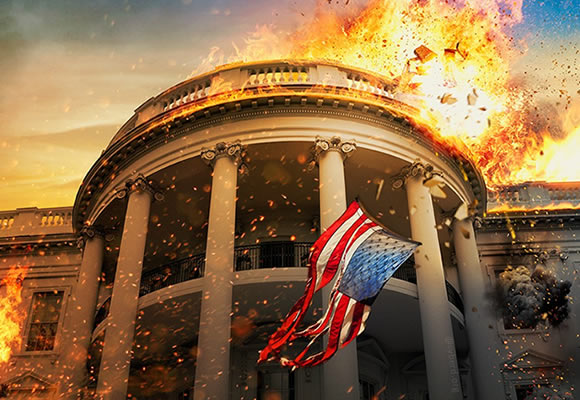 I liked this movie. I don't quite remember all of it, but I know I liked it. It's a shame that White House Down came out the same year though, because this one pretty much completely overshadowed it. At least for me. This movie was good... but White House Down was waaay better! The plot is very much the same, but there are a few perceptible differences in this one, such as: lack of kid, not as charming a main character, not as intense and exaggerated action and overall not as varied, clever and entertaining a plot progression as the latter. The IMDB description reads this:
Disgraced former Presidential guard Mike Banning finds himself trapped inside the White House in the wake of a terrorist attack; using his inside knowledge, Banning works with national security to rescue the President from his kidnappers.
Apart from the differences detailed above, I suppose this one is a bit more serious, if that's what you are looking for, though White House Down is also far from comedy. Overall it's yet another patriotic American movie, the second one of the year with exactly the same theme, but all the same a great watch!
rated 4/5: fo shizzle
February, 2021
As far as action movies go this one really ain't bad.
I didn't remember quite how gritty and intense it was. How many power players they had in it. The turns it took along the way - some more predictable than others. And I do admire Butler's determination. Sometimes you're not sure if he's acting or not. He seems like the type of person who just might do something like this for real. Disarm an entire terrorist militia and save the president in a day. Like the new and slightly less bald Bruce Willis.
His part in this definitely feels authentic, but special effects? Feels like they blundered a bit in the beginning there, but made up for it in the end.
I don't even mind that patriotic speech now. I love it. The movie's long enough that you really immerse yourself too. The characters are great. Props Rick Yune too, and Aaron Eckhart plays a good president. Of course Morgan Freeman's always amazing. Most people are great here. Melissa Leo might've overplayed it a little, but that's how she's meant to be I guess. Small but determined.
Wonder how a movie like this might've impacted Yune's reputation though. Some people do take things outside the cinema, and he played a pretty damn authentic villain.
Also can't decide if I'm disappointed or in awe of the final showdown, unexpectedly fast but also all the more ferocious because of it.
Let's see how my former favorite of the two - White House Down - compares after this...
rated 4.5/5: almost awesome