Once Upon A Time In Hollywood (2019)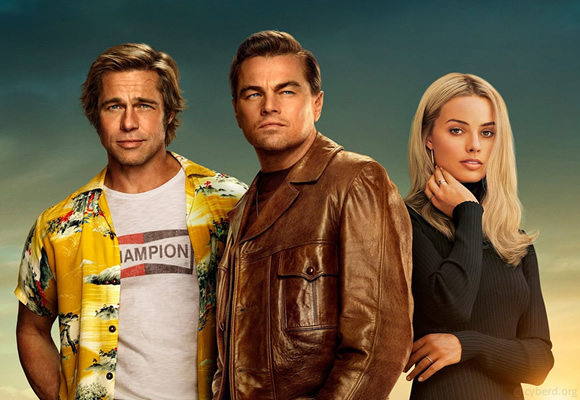 Tarantino can make movies! Holy shit he can make movies.
The build up's the big thing. That and the moments. How they all add up and coincide - all to the backdrop of glimpses from a time I was never a part of - with hippies and cigarettes and shimmering music you just can't replicate with our modern day crispness.
The screenplay's not all that advanced, but the acting most definitely is. The young Asian girl and Mike Moh (who placed Bruce Lee) are two major favorites.
Not that I feel Bruce Lee was handled justly - childhood hero of mine as he is - but he was depicted beautifully, and the way Tarantino surrounds himself with controversy and themes most people wouldn't dare put in their blockbuster movie - like snoring ladies, cigarette commercials and hippie killing - is one of the reasons you enjoy him. You never know what to expect. Well, you know THAT is what you should expect. That's the great thing about him. Predictable unpredictability and lack of self-censorship..
Having Brad Pitt (wonder if he had a stunt double for any of his scenes here) and Di Caprio as the two lead roles is of course the most awesome part. Huge fan of both. But there's not a bad actor around them either. Everyone's amazing.
I miss a bit of Al Pacino's old tough guy crudeness, but he does have just the right movie biz charisma otherwise too...
It's nothing amazing, all in all, like most of Tarantino's movies. But it has amazing moments. Some grotesque. Some crazy. Some so impeccably coordinated or slice-of-life-like that you can't help smile simply at how well it all goes together, even if sometimes there doesn't seem to be anything special to it. Maybe it's similar to how life is all about those individual moments? They bring it all together. They're the reason for all.
And that's the mastery, isn't it? That's what sets Tarantino movies apart from others. He makes mundane scenes stand out. He makes the moments memorable. He makes making movies seem like the easiest thing in the world - though in this particular case some of the behind the scene scenes (making movies within the movie) were pretty brutal. You feel for the actors too. In the movie. As the people they act. It's not all sunshine and roses.
And I do wonder who that little girl prodigy really was...
Bravo, Tarantino. I really enjoyed this. Would've hoped you'd never stop.
rated 5/5: friggin awesome