One Piece 120
The fight rages on!
A selected few soldiers drink a forbidden water to gain monstrous strength in the hope of defeating Crocodile, the side-effect of the water being their death in three minutes time. They don't put a scratch on Crocodile.
One of the kings personal guards who has eaten a Zoan (animal)-type fruit, does a noble effort at avenging the dead soldiers. He doesn't land a single hit on Crocodile.
The Strawhat's are rushing to the scene of the greater battle.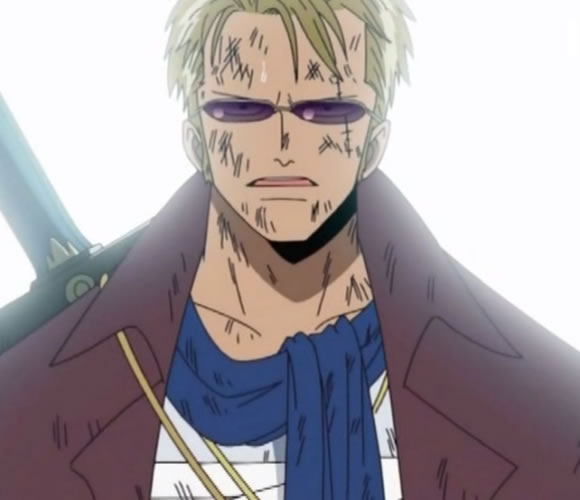 The rebel leader Kazou arrives at the scene. "Do my eyes deceive me, why are these soldiers lying dead, is the king at the mercy of our lands greatest hero? Who has stolen this country's water?" Not those words exactly.
The guy you see lying at Crocodile's feet above isn't dead yet. He stalls for time while Kazuo rushes back down to the square to stop the battle. Things weren't how he had thought they were, and to top it off there's a big bomb in the clock tower by the square just waiting to detonate. Time to get everybody out of there!
The flag falls, along with Kazuo and princess Vivi's vivid scream. Can the rebellion not be stopped after all?