One Piece 124
In the town square things are looking hopeless. They can't find the bomb anywhere and the time is running out. In an attempt to rethink their strategy Usopp fires up the signal.
That's the signal.
Meanwhile Luffy has awoken from his nap and is running down into the secret crypt to face Crocodile. "What's wrong with this place?" He asks himself. "It's crumbling!"
This time Luffy doesn't have any water, but blood does the job just fine. He lands a couple of surprise punches and blasts crocodile through a wall before he realizes Luffy can actually hit him. Conversation time...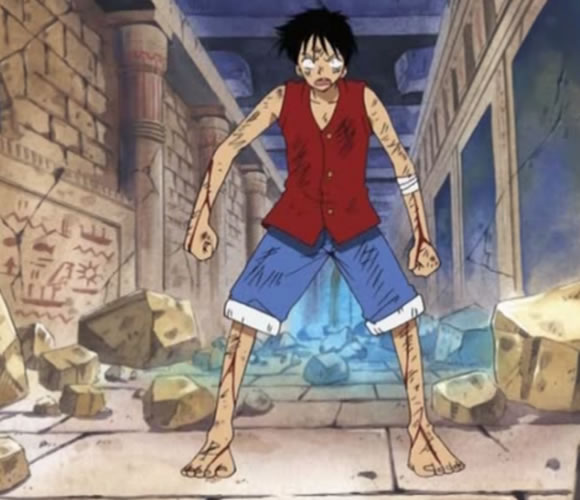 Luffy: You haven't returned it... what you stole.
Crocodile: What I stole? Money? Fame? Trust? Life? RAIN?! What do you want me to return? I've stolen more than I can count!
Luffy: The country.
Crocodile: That's a funny thing to say, I'm just ABOUT to steal this country.
Luffy: When we came here, it was already gone.
Up in the tower, the final thugs are revealed.
Down on the ground, just outside, the Strawhats watch as the location reveals itself. But can they really make it in time? The seconds are ticking away now!