Swordfish (2001)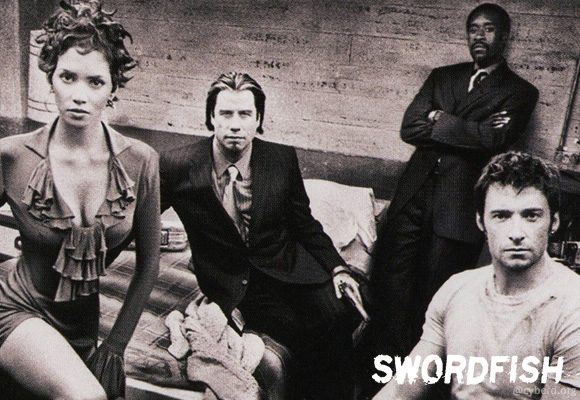 Old hacker movies are just so fun to watch! :D They don't get the hacking part right at all, but having a visual representation of what the directors of the time probably considered 'high tech hacker stuff' for the viewers to relate to... it's always so entertaining! In some movies it's futuristic and cool, in some it's just silly. This one? It's a bit of a hybrid, but maybe it's just not old enough yet. We'll see how outdated it looks in a few years...
What's strange is that you'll find just as unusable and alien-looking computers in newer movies too, though maybe there's less and less. Only B-movies now? It's a mystery they can't just use a normal interface or terminal, without spectral vector graphics, layers, excessive information presented in incoherent ways and flashy graphics hovering around wherever possible. Not to forget that typical artificial, apathetic yet often sensual female computer voice to make the visual audial as well. I guess there's nothing flashy about the real thing, and this is how they give it life... or in retrospect at least make it more entertaining. It's just that it clashes with the seriousness of the script a bit... in movies that have one. Like this.
The story is that of a hacker, Stanley, getting invited by Ginger to do a little job for Gabriel. He's given a hundred thousand just for attending the interview, and since he has some legal troubles only money can solve he says yes, goes to the interview, and is given a minute to hack into NSA servers with a gun pointed to his head and a random woman giving him a blowjob. Ginger and Gabriel stand on each side and watch. Smiling.
Not the best or most comfortable start to a profitable partnership, but he does as well as he can, almost makes it under a minute, the gun clicks, he shoves the woman away - nobody blows their load, and that's when he actually does get into those servers. He walks away angry, Gabriel tells Ginger that's their man, and if it didn't already seem so this is the point when things start getting serious. The whole movie is one big flashback, and it starts with death and fire, so you know it is serious right from the start.
The aforementioned trio's played by Hugh Jackman, Halle Berry and John Travolta. They've got their normal dose or more of charisma and class here. They're great. You can spot Vinnie Jones in the background too, and plenty of other faces you might recognize. The plot's not linear, and not too simple either. The stakes are high, Grabriel's not one to be messed with, and Stanley's like a dust particle caught in the storm. Considering it's marketed as a hacker movie there's surprisingly little of that going on, but it is a good movie. Action. Thriller. Mystery...
The main character's a reluctant one btw, but a combination of threats and incentives keep him going, and though there are way higher stakes than his own life that's the one the movie focuses on. Him and his daughter. He's the good guy. Gabriel? The bad guy, supposedly.
Isn't there any movie where the bad guys win? The officer says no, but Gabriel begs to differ. Maybe he's wrong, because every time they try to make a movie like that they somehow end up portraying the bad guys as the good guys, or at least bringing forth some part of their persona or perspective that in part redeems their actions. That makes them human. Relatable. I guess it all is all black and white.
That clue is what this movie starts with though, and even if it doesn't follow through completely it does make for a good show. Misdirection. They prepare you right from the start, and maybe that quote is part of the bigger picture too. Even when it's over you don't really see the big picture. Who did what, who was what, if it was good or bad or not... leave that up to the viewer. It's a refreshingly open ending.
The Swordfish? It's explained in the movie, though even without explanation it's a suitable title. Good symbolism. It sounds cool too.
Details like the one guy waving the gun around before he actually starts shooting into the ceiling, and the slow-mo car scene with unfortunately outdated CGI - not to mention the futuristic tech stuff that seems neither historically nor futuristically realistic in our present day, are details that bring down the score a bit, but most of it doesn't disappoint. The car chase feels typical. The fall down the hill though, that was intense! It has it's moments, and the strongest moments lie with the plot twists. It's got just enough of those to make it a great watch, outdated effects or no.
rated 4/5: fo shizzle