Rogue One: A Star Wars Story (2016)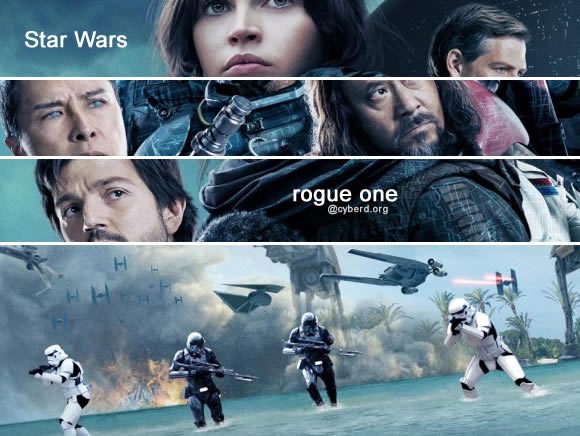 This really was different from the usual Star Wars movie, but not in a bad away! I was expecting something worse. I mean: I was expecting something bad. This wasn't. I though that since this wasn't like the old movies I wouldn't like it so much, but though I did like the main character in the last movie more than the new, minor ones, here, I was positively surprised. It captivated, and it moved in ways a Star Wars movie never has before.
Not that I recall, at least, even if it feels familiar.
Jyn Erso (Felicity Jones) was a charismatic enough main character, and Cassian Andor (Diego Luna) did a good job as that kind-of-good-guy who maybe isn't - the element of uncertainty, but what really blew my mind was seeing Donnie Yen in a lead role, as Chirrut Îmwe!! Donnie Mother Freaking Yen in a Star Wars movie!!! He's an instant favorite character just for being him, and this is an awesome movie for having him, but trying to look at his role without so much bias: I feel he handled it well, too. The first question that popped into my mind was if his voice was dubbed, but it seems he's not that bad at English after all! Hope this is the start of a real tour through Hollywood for him.
I don't mean to take the spotlight entirely from the other guys though. They're all good, both new and re-occurring, and though it plays in an entirely different league than the usual Star Wars movie: a much darker, and less hero-centered one, it ties in nicely to the main movies too. When it's all over.
I like that the movie's different, even if the official ones have that kind of immortal pompousness that... maybe movies like this never will, close-up of a dying planet or no. Maybe glorious is the best word to describe this, whereas the others are timeless. Or maybe it's the other way around. Unlike the usual Star Wars movie there's no expecting what's to come here, because it's a side story. The good guys don't need to win. The main characters aren't all legends, they're ones that the main story forgot, but... I don't know where I'm going with this any longer. It's different. Good or bad. Good and bad.
It starts well, and it ends well - even if it's all but well. Emotions do well, and maybe more so here than with the official movies. It was an unexpectedly appreciated spin-off and I hope there'll be more like it. It's the story of how the Rebel Allience, against great odds attempts to steal the plans for the Death Star, and it's a story well-worth watching, and remembering.
rated 4/5: fo shizzle