Star Trek 5 - The Final Frontier (1989)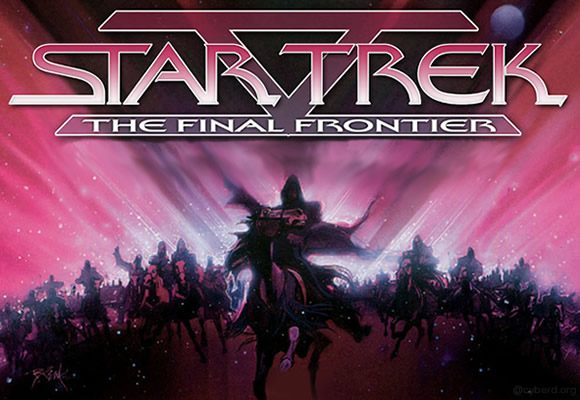 The Final Frontier would've been a good name for the final Star Trek movie, but this isn't it. It's an adventure that starts around a camp fire, with Spock wondering why they sing that life is but a dream when life is not a dream, and ends with them questioning God - the being who resides beyond the barrier past which no one has ever been.
There's also Spock's long-lost half-brother Sybok, who hijacks the USS Enterprise after staging a rebellion on the Planet of Galactic Peace. Klingons get involved, but they all end up having a party, and that's the end of this story!
After the last movie, it feels like they're moving forward with the combination of real and futuristic, with the down-to-Earth campfire before the departure to space, and it works well. It gives the adventure a point of reference. A beginning. A root to the Earth, on which we can catch our footing before we depart into the endless folds of the cosmos.
This is also the first Star Trek movie with a stripper, and even though she doesn't really strip, that's one element I wasn't expecting from these movies! Somehow they've always seemed to uphold a stature of the most respectable moral codes. Not that I mind, it's just something I wasn't expecting. I guess it's 1989 after all.
Overall, it's another grand adventure, and the special effects surrounding the barrier are pretty cool - almost as much so as the melting faces of the prequel's time-warp scene. With effects like that, they seem to be going back to the roots, and making it better.
Kirk & Co fight it out as always, and end up saving the world... maybe? I'll leave the spoilers untold, but you probably won't be surprised.
It's another good movie.
rated 3/5: not bad