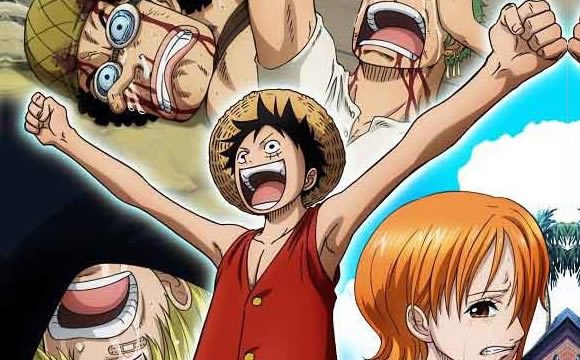 Or AKA the longer title: Luffy and His Four Crewmates' Great Adventure!
Oh man... the feels in this one! Even though it's a very compact flashback they get through quite a few of those! And yes, two hours is compact for a flashback on this scale! Considering how many weeks worth of episode content they tried to pack in and summarize in just one episode it sometimes doesn't seem nearly enough.
It's more than just a flashback too. Everything's re-drawn. It feels cleaner, and flashier, and yet some of the 'charm' of the older episodes is no longer. Expressions are more ruthless. The action is violent. I'm impressed by how well they manage to bring it all together, and impressed with the quality, yet I miss some of the warmth and lightheartedness of the earliest episodes, and how some vital details (like the importance of Luffy's hat) are left out.
All in all though an appreciated summary, and I hope they make one like it later on for all the adventures that follow, and all the friends and foes they stumble into along the way! It's been one wild ride so far, and though it's far from over it's never wrong to get back to their humble beginnings every once in a while; refresh your perspective. Especially if the show's been running for soon... as many years as I have. Almost two decades so far. Holy shit. No wonder it's such a big part of my life now. Good episode.
rated 4/5: fo shizzle