Anyone interesting in snagging this old classic tonight? ;)
First come first serve. Redeem code here.
Hey, speaking of giveaways...


...go get it. The latest Humble Bundle's worth checking out too.
Maybe this could be a new thing? For tonight this game is on site.
First come first serve. ;) Redeem code here.
UPD: Aaand it's gone.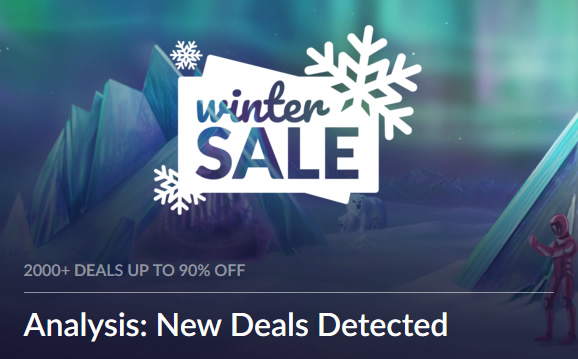 GOG are doing one of those things again! SOMA's currently free, and Fantasy Generals is basically free too! Spend a meager 0.01 USD and you get it... though of course there are no games that cheap, so technically: spend a dollar.
I just wish you could sort games by price, or even better: by rebates, in ascending order, and I'd be all on this... but the game giveaways on this one: sure. I got those. Background here.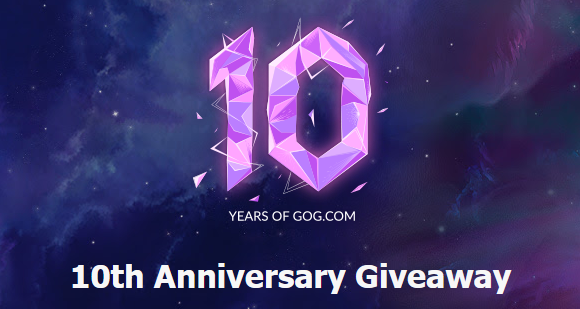 This thing dropped into my mailbox a few days ago, and of course I went to check it out! 10 years of GOG?! What can I say? I'm a fan. I'm hyped for the celebrations. I wanted to cast my vote.
But I guess a lot of other people did too because I only reached this far! Disappointed, I moved onto other projects, forgot about the event and just remembered it today.
At the nick of time! :D If you happen to be reading this blog within the next ten minutes or so: there's still time!!! Head over to the voting booth here, or if you're late maybe to read up on their history, watch a quick hype video and admire the graphics? They've always been good at those. Looking forward to seeing which one wins, real soon.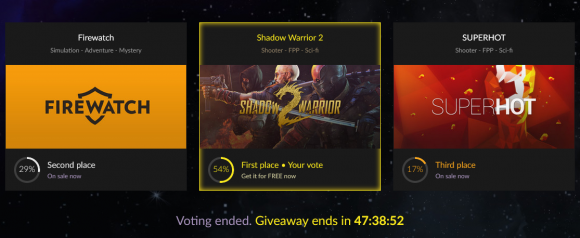 Like, right now. :) And I won!
Well we all won. Even if we voted on another game, cause there's rebates on all of them now, and Shadow Warrior's awesome right?
Also here's a few background images.
Cheers, for all these past years GOG (for the record I always pronounce that gee oh gee - gog just sounds wrong), and looking forward to this new decade that follows!
UPD: Also don't miss the video!