That Pesky Windows 10 Upgrade Notice
Microsoft just won't give up! The upgrade notice started appearing again, and this time it won't disappear.
They won't let you choose to not upgrade your system either. On every tab you visit there's an 'Upgrade' button. And whatever you do, don't click the side menu and select an option there, or it'll start downloading immediately!
I posted a few screencaps of this little annoying ad earlier, but it seems it's changed a bit since then. Here's how it looks now, and if you want to know how to disable the upgrade there's more on that below.
(Hope you don't mind the Swedish interface btw, that's the language I usually use when I'm not writing.)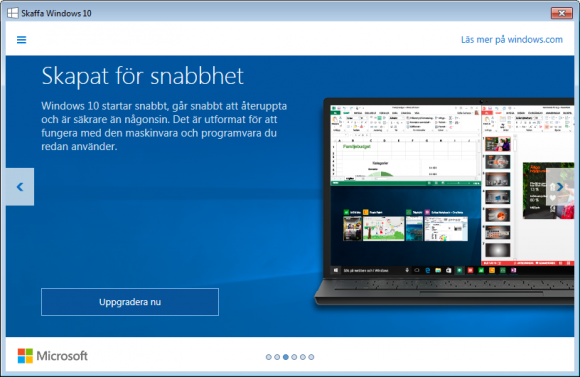 So, what do? You could either uninstall certain upgrades, and edit your registry, or, you can run Never10 (it's freeware), and make sure the upgrade process is disabled entirely. It looks like this:
One click of a button and...
It goes to this! Finally. Upgrades are off. Now let's hope Microsoft doesn't persist, and make a workaround like they did for their old, less aggressive, updates. The way they've been going about this I will never upgrade to Windows 10. Ever. It's Windows 7 until support's over, and unless they're back on track after that, either Linux or back to Mac.
Windows 10 is no alternative for me.