The Legend Of Tarzan (2016)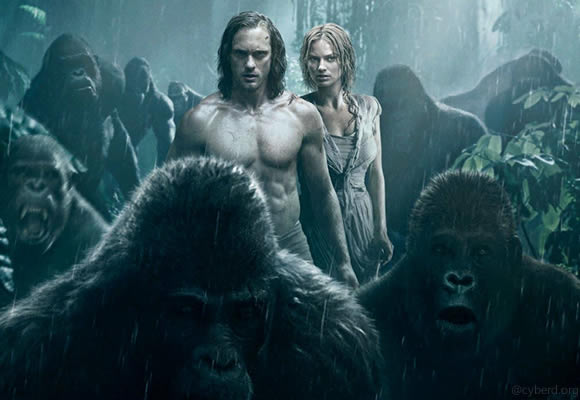 This was a refreshingly new angle on the whole Tarzan story! It combines both past and present to tell a tale of how Tarzan became who he is - and who he is right now, and both stories are pretty eventful.
The sceneries are grand, as are the animals, yet the special effects leave a bit to be desired. They're just... fake. Way too colorful and smooth. Surfing on trees. Swinging onto a moving train. The canopy flashing by. Herds of animals thrashing through the city. The destruction a blur. A bit too much of stuff like that... but the story? The action? The characters? They're not bad. Alexander Skarsgård does a great job as the one and only, and Margot Robbie as Jane, and Samuel L. Jackson as the much appreciated sidekick (and who else than Tarzan could get a sidekick like George Washington)! And let's not forget the villain, Christoph Waltz - he feels pretty villainous.
The script plays with our awareness in interesting ways, and a story takes us on a nice trip through the forest - on a chase for life and death and diamonds. There's some great fights too - great coreography, though the special effects are like a splinter in an otherwise very fine-looking toe. It's a mighty movie, but not perfect.
rated 3/5: not bad