The Medallion (2003)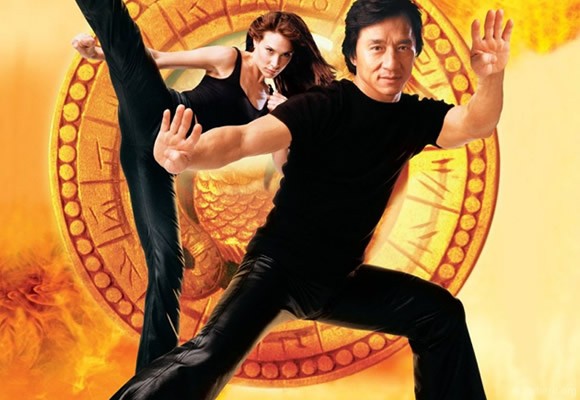 Last time I watched this movie I didn't get the best impressions from it. I felt (as I do with many of Jackie's newer English movies) that the cultures don't always combine well, that the comedy feels forced, that Jackie's accent is comical (and not in a good way) and it's hard to really get involved... but at a second glance it's not that bad.
Jackie's English accent makes more sense here than in a lot of his other movies, his British co-actors are genuinely funny (sometimes), I just realized Scott Adkins plays one of the bad guys (:O) and the whole sped-up action-magic thing is actually... pretty cool! It feels almost like a retake on Yuen Biao's Kid From Tibet (an old movie with horrible special effects, but awesome acrobatics).
All in all it's a comical; imaginatively creative story, with occasional action. I do miss the old Jackie, the one who was more of a witty; unintentional funny guy than the constant fall guy, but this is comedy too. The 'superhero' phase put me in a good mood, as does the whole movie really, it's one of those good mood movies with some memorable stunts, though nothing as spectacular as his older works. Good watch.
rated 3/5: not bad
January, 2021
The Medallion isn't all it's cracked up to be.
If it is cracked up to be something?
Watching this movie now I feel kinda strange about Jackie and Nichole's relationship. Like she really plays her part, yet he's just playing for the camera? Brings up memories of a story about how he treats his fans. A bit carelessly. I don't mean to bring that up but it comes back to me. Used to be such a fan though. Still am. What am I rambling on about?
The special effects here didn't really hold up. Some did. Not all. The superpowered choreography's fake but cool (read: entertaining). I notice Watson almost plays a Jim Carrey impression towards the end. Feels like he goes overboard a bit.
The chases are maybe the best parts. The final showdown's a letdown. In a way the whole movie's like a chase. From one chase to the next.
I like the boy. I like Nichole. Watson has some moments. Whatever happened to his wife btw? And holy shit the China Town intro here was unexpectedly real. Living frogs getting decapitated, a chicken getting its neck wrung. Authentic, though. Props. They definitely did that intentionally, though it feels a little misplaced considering the sometimes very non-authentic nature with the rest of the movie.
Like so many of Jackie Chan's other Hollywood/HK crossover movies this one comes off a bit incomplete, but it's not without merit. Give it a chance and it'll really take you in... only to disappoint you again at the end. Then leave you with a strange-looking smile playing on your face, cause it ended in a happy way after all.
The magic touch is nice though. Reminds a bit of The Kid From Tibet. Wish Yuen Biao was here too but at least Samu Hung's involved with the choreography.
And Scott Adkins plays a small role. Thought Johann Myers was Wesley Snipes for a while. The Nikki Berwick was bad-ass too. The other guy I'm not sure of the name of, Asian with glasses who's prominent in HK films otherwise... was he dubbed? His voice felt a bit wrong here. Always a great actor though.
I like how many little things I noticed this time around that I don't think I did before! But overall: it's a little messy.
Container scene though. Kitchen scene too. Didn't remember the feels there. Sometimes it shines. It seems my rating's jumped slightly, but then again I don't think I had these half point scores last time I reviewed this...
rated 3.5/5: not bad at all