Used Cars (1980)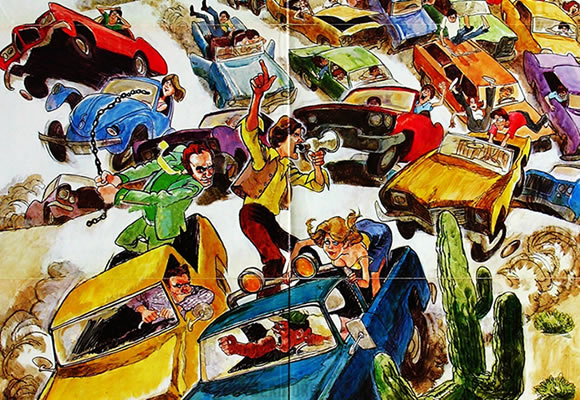 Kurt Russel is an extremely convincing car salesman. He sells any type of car to any type of person, lures in customers from the dealership across the street and plans to run for major - but then his boss (and very good friend - he's like a father to him) suddenly dies.
The boss's brother, who just so happens to own the car dealership across the street, will do anything to get his hands on the lot and sell it to make way for a freeway, and Kurt AKA Rudy Russo can't let that happen. Together with the two other somewhat shady types he works with he buries the dead boss in his favorite car and tells the boss's brother that he's taken a trip to California, but what he doesn't know is that the boss's daughter - after ten years of silence - just gave the boss a call a few hours before he died and is soon coming to visit.
It's a comedy full of cars, crazy commercials, shady sales, tricky relationships, luck, and an unexpected encounter between the expected duo that builds into somewhat of a love story, then deceit, then reunion, then... wait... am I spoiling something here?
It's a good story, with occasional nudity and profanity (it's the eighties!), plenty of fun, and most of all: plenty of cars. It's got everything an eighties movie needs short of gunfights - though it does have a little gunfire and creative carnage. I just love that dry dusty atmosphere of wherever this was filmed too, it's got an atmosphere I've grown to expect from movies of this era. Great watch.
rated 4/5: fo shizzle