Weekend Warriors (1986)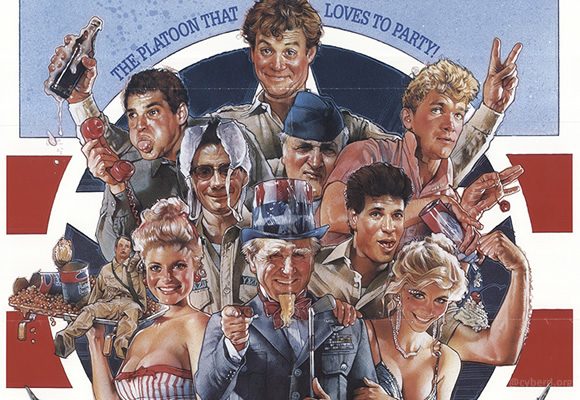 In the same vein as Naked Gun, or Police School, here's a quick uplifting eighties action comedy starring a team of totally unfit military outcasts straight out of Hollywood - actors, journalists and studio personnel, all joining the military to earn a quick buck since the acting biz is on an unfortunate low... but suddenly they're about to go into active duty, and an inspection with the Romanian Ambassador awaits!
It's not as serious as it sounds though. There's some cocky humor. There's music. There's showbiz. Compared to the titles I just compared it to it's somewhat simple and ordinary, with comedy that's fun to watch but rarely makes you laugh, but the camera angles are occasionally creative and lively, and the slapstick and sex humor does lift you up. There are some stunts. There's some song. It's not that elaborate but it's not bad after all.
Oh and it does have Lloyd Bridges (albeit in a not very major role), so you know it can't be all bad. I read a review on the IMDB page by a guy who had a small role in the film, and this little insight seems to explain my impressions pretty well: The story wasn't fantastic but Burt Convey kept to a simple premise. "Just have fun with it!" In the end, we did and I think the vibe came across in the final product.
That it does! Good watch.
rated 3/5: not bad