Bodied (2017)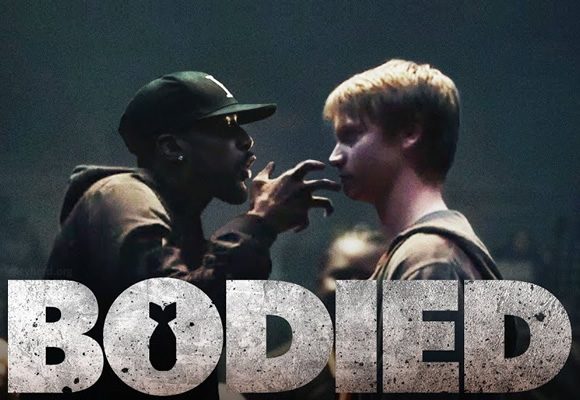 They brought a pretty twisted form of humor with this one! A main character that is - for lack of more intelligent wording - an asshole. And yet he's not. Not really. He's just so passionate about the craft that he's almost obsessively blunt, and sometimes it's depressing, and sometimes hilarious, and sometimes a strange combination of the two.
Bodied is the story of Adam, who ventures into the battle rap world by chance one day when a whack rapper approaches one of his idols (who he's attempting to write a research paper with certain guidance of) and asks to do battle, but clearly isn't a worthy opponent, and so Adam is called in to intervene.
And that he does, with a viral and rapidly growing fame as the result, for both good and bad. His talent for sculpting the most creative and savage insults on stage increases, while in parallel his relationship takes a turn for the worse, and when it's all over I'm still not sure if maybe he went too far, or if this is just that kind of world, and the other guy didn't fit.
It's got some moments. It's got bars. The entertainment's a strange and cynically twisted kind that I imagine someone like Eminem might stand behind, and I wonder if maybe this is an exaggerated but all the more truthful recollection of his early battle rapper years than 8 Mile was.
The latter was cinematized in the best possible way, glorified even, whereas this showcases a form of brutal honesty that seems to embody his persona, with both a comical tone and an underlying darkness.
And hey, it's a Shady film! And a YouTube Original. It's an interesting hybrid, and an interesting debut to both a pretty bad-ass (fictional) performer, and collaborative movie studio franchise that I really look forward to following from here on out. Wonder who wrote all those lines...
Also props on special effects. They're rare but they fit in perfectly. It's a new kind of 8 Mile it is. Have a taste of this shit.
rated 4/5: fo shizzle