Sand Sharks (2012)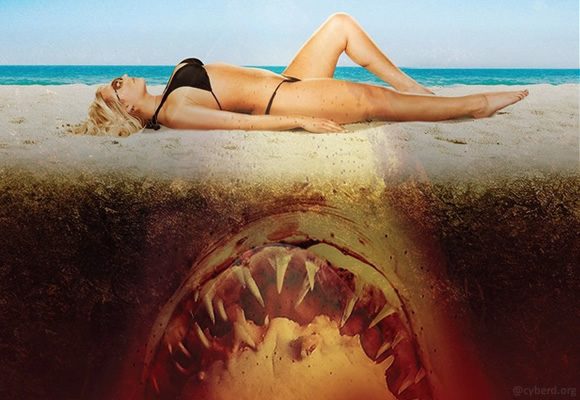 The movie begins with the ocean: vast landscapes of sand, greenery and foamy waves... and a couple of guys riding their bikes in a haze of dust and debris when *poof* a shark pops up and eats them. Jumps right out of the sand and: eats them.
Until then your party isn't on the sand, it's on ice.
...and that's why they made Ice Sharks, huh?
Sand Sharks actually was better! Not only are the sceneries better: warmer, vibrant, full of life, but the angles are better, the CGI is better, the plot progression overall is - albeit a little bit cliche - not bad at all. The script is on point. The scientific bits are on point. Wordplay. Entertainment value and props. It's all there. Apparently it's also a sequel to... this one movie I forget the name of but greatly enjoyed so: if you liked that one, whatever it was called, you can expect more like it here! It´s a bit like the Tremors franchise but: with sharks.
Unfortunately bad special effects start kicking in after a while... and together with limited party loops that cuts down the mood... a lot. It's low-budget most definitely. It's a B-movie. But it's an entertaining one too, unfortunately lack of production quality and consistency eventually brings it all down low, despite some both goof-looking and good-actors, cast members, and one killer beach party.
But compared to Ice Sharks? Yepp. Definitely better.
rated 2/5: decent