Hush (2008)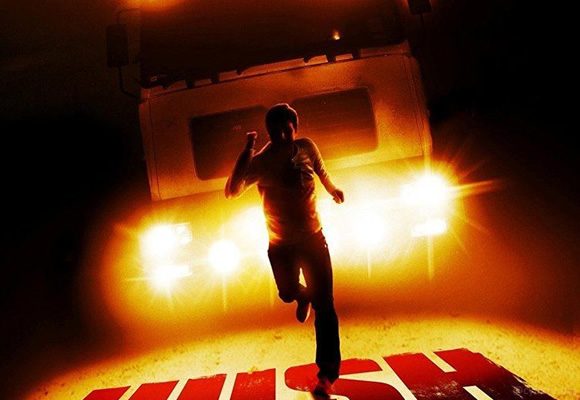 A guy and a girl are riding down the highway one dark, rainy night, when the guy catches a glimpse of a naked girl in a cage in a truck in front of them. But he's not sure. They call the police but can't see the plate, and it all runs into the sand a bit; other relationship drama takes over.
Then they stop at a gas station, the guy goes to the bathroom, the girl disappears... and now is when it starts getting grimy. She doesn't come back, but he sees the truck in the parking lot just as it starts to drive away, and in the surveillance room a third party makes themselves known...
He chases after her first by hunch and soon by enforced conviction, and though there's not much high speed action (none, actually), it keeps the intensity high all the way. He steals cars, and sneaks, and snoops around, and finally chases the kidnapper to his final destination...
The atmosphere's the best part. It's heavy, lucid and frantic. The characters act out their desperation well, and though some of the close calls fall to cliche (the bad guy's looking under the truck, looking further under the truck... finally looking under the truck for real, and suddenly the good guy's managed to make it to the front of the truck), the tension really keeps you glued in. It's uncomfortable from start to finish, and that's something you can't say about most of these movies these days. Just wait for the twist too. The twist? There's plenty of them.
I should mention this all takes plane in the UK, it seems. Makes for a refreshingly bleak kind of setting for a thriller doesn't it. Solid work.
It appears this movie came out 10 years after a movie with the same name btw. Bout to watch that one next! Maybe they're related...
rated 4/5: fo shizzle