Journey To The Center Of The Earth (2008)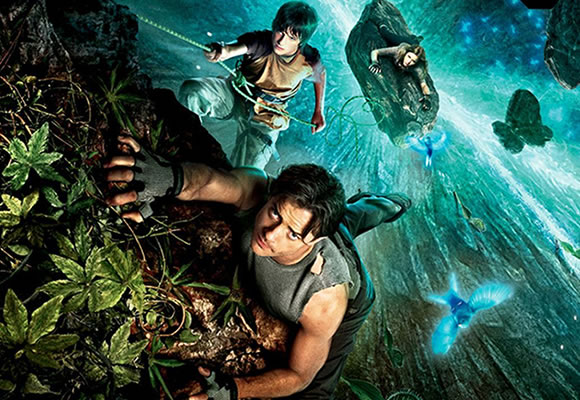 Journey To The Center Of The Earth is a story about a kid and his father, and a great adventure, one that takes them all the way to the center of the world. There's a lot of Jules Verne references here, along with some exiting scenery. There's a lot of traveling and even a little getting somewhere, and did I mention it's not animated? Yeah, it might not really be for my age, but it was a fun watch anyway! It's kinda like the Narnia series in that the character all go through something and end up in a entirely different world, a world that seems fantastic and fictitious and mostly for kids, but that's where the similarities end! Overall, good adventure movie. :)
rated 3/5: not bad
March, 2023
Here's a testament to nature, to the wonder and beauty thereof, and to a literary classic. And to adventure, and fantasy, and love.
The emotional moments were surprisingly emotional. The special moments surprisingly magical and atmospheric. The rain track ride back to the now though unfortunately very fake-looking.
Might've been one of my favorite bits when I was little.
And some of the supposedly comedic bits are maybe a bit overly-expressive. Everyone shouting even when you can clearly hear them...
The special effects in this one did not age gracefully. Not all. I remembered it as more immersive, though it's not bad. With the water-based scenes in particular they really manage, and sometimes it doesn't matter so much if it's real or no, like with the flesh-eating plants. The styles merge well. And it has that distinct early-two-thousands movie kind of quality to it now. Wonder if it's the camera, the culture or the characters. Maybe a combination thereof.
Whatever happened to Brendan Fraser though? He was in a lot of movies when I grew up...
But all that said this one's still a trip. A good one, like the old Jumanji. Like a movie made for the movies. With heart.
And with a Scandinavian lady in the mix no less?
Can't go wrong with that.
rated 4/5: fo shizzle