xXx 3 - The Return Of Xander Cage (2017)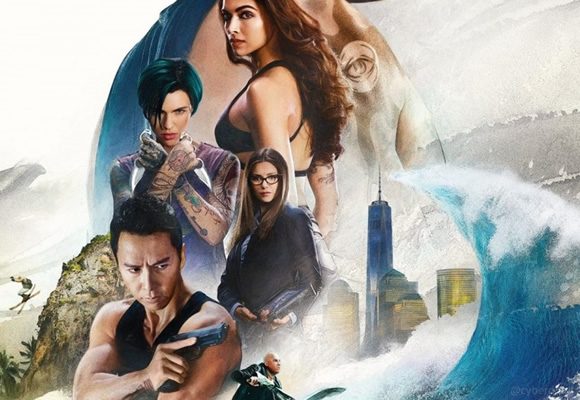 Personally, I liked the second one most. I was happy when Vin Diesel as Xander Cage was replaced with Ice Cube as Darius Stone - even if the alias fit him badly.
They both lived and breathed their real-life alter-ego's, though Cube was a lot more restrained. A lot more authentic. A lot more like the xXx I wanted to see on the big screen.
They both have a laid-back kind of toughness, but though Vin Diesel looks tough, Ice Cube feels tough. I don't know much about Diesel except for how he seems in the movies and roles he plays, but Ice Cube has a history. Neither are great actors, but Cube's the one with the attitude IMO; and when they pushed things up a level with the second Triple X he seemed like the perfect choice, though critics seem to disagree...
Moving back to this title though: Xander isn't alone this time, and together with a few characters from the first movie he gathers together a crew that makes me think of a wannabee group of The Expendables. All the tough guys who weren't there, or weren't really tough enough to qualify. Except for Vin Diesel. They're not bad, though do a fair share of looking-cool-though-they-can't-really-do-anything, just like the latter.
The opposing team is a whole other game though, boasting not just Donnie Yen (I'm still so happy he finally got into Hollywood - and barely has an accent), but Tony Jaa! In the same movie! Holy shit! The latter's punked out with a blonde Mohawk, and probably still not that great with English since his dialogue's incredibly limited - but he's good. They both showcase some awesome skills, and Vin Diesel gets help of (I assume) stunt doubles and special effects to keep up, but in the end makes his own action seem pretty damn authentic... and over the top, but still: authentic.
I need to find out how much of it really is real.
The female villain's scream was as impressive as the exploding crate landing, and the girl with the uzi, and the trip down the hill, and all kinds of memorable moments. It's over-the-top action at it's best, and I'm not even going to go into the Tony Jaa or Donnie Yen's stunts, but they're worth watching. They showcase their trademark moves in new and awesome ways, and then some.
It's awesome, the action, and they really do bring it to a new level this time. The rest of it's so so. The plot's back to the same old authority bullshit, babes, and government agenda. Not so much cars this time. Maybe that's one more of the things I miss after the second, though it seems like it might be an intentional move to keep this franchise away from the Furious.
Overall it's not bad! A worthy sequel, and Vin Diesel does his best to prove himself worthy his old role. It works. He won me over. When he and Cube (spoiler alert) are sitting on the hood of the car at the end he does look like the one with all the attitude. Intentional though it may be.
The story? Well Gibbons is dead, Stone is gone, and X is back in character again. But then the new guy jumps in too, and it all starts looking a lot like The Expendables again, and the cover looks like Star Wars (but that was an awesome cover).
I wonder where they'll go from here. Better? Worse? It feels like they've put together a pretty bad-ass team for potentially bad-ass sequels, but at the same time it doesn't really feel like Triple X anymore. Like good FPS games it's gone from solo to multiplayer all too fast. It's good, but not like it used to be, and not as over-the-top but down-to-Earth as the prequel. Not as impressive tech-wise either - but maybe that's their way of getting down with that Earth part. They're halfway there.
Fun fact: Tony Jaa didn't speak any English before 2014! He must have gone through some pretty intense training. I watched an interview with him in connection to this movie too, and he speaks way more than his lines. I'm impressed.
rated 4/5: fo shizzle
July, 2019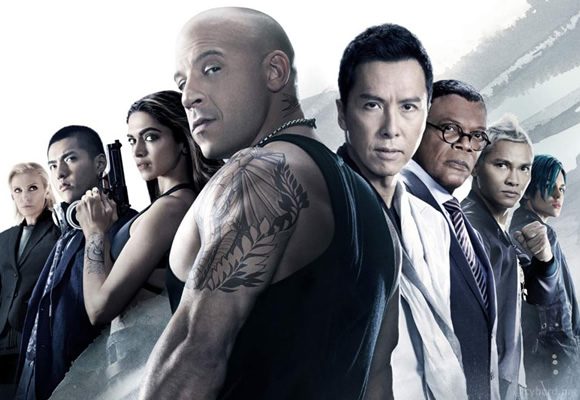 This is just such a dope ass movie, and I'm so happy they didn't just bring both triple exes together, but brought in Donnie Yen and Tony Jaa too!
It's a cast of greatness, all doing great things, and sure they've got some wire work and tricks up their sleeve but... it's got it when it counts. And it looks great. Donnie's as theatrical as ever. Diesel's calm and collected, Jaa's just a little crazy, Padukone is beautiful, and I knew I recognized Ruby Rose from somewhere, when I saw her in The Meg recently!
This is that where.
There's not much more to say about this that I didn't say in the review above - though maybe my impressions have faded just slightly since then. I notice what's real and what's not now. A little more. But it's still a blast.
rated 4/5: fo shizzle