Fairy Tail 1
In an alternative world, maybe in another universe, there's a place where magic exists. Some people make a living off their magic. These people are called mages. All around the world there are different guilds where mages go together to make money, one of them, is called Fairy Tail. This is the first episode, and that's the introduction. Now on to the real chain of events.
Everything starts with a few narrative smoke swirlds...
Before we enter a small town by a name unknown...
Where a guild exists with the same name as the anime itself! Coincidence??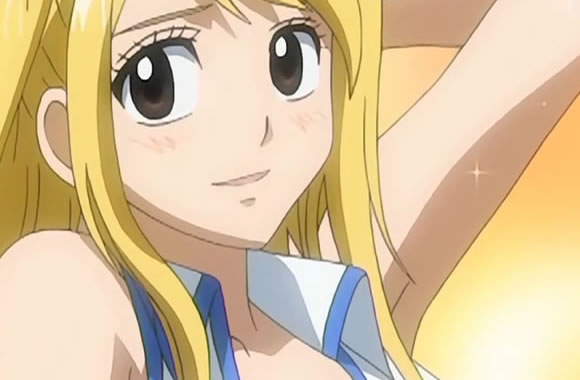 After meeting a couple of tired wanderers that probably won't have any real say in the story, we meet Lucy. She's bargaining for a magical key and strikes a tempting pose to save some money.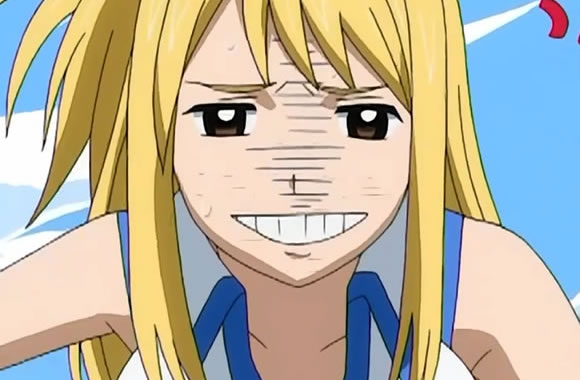 Her tempting pose didn't result in much of a rebate, so here's a more unappealing side of her. Anyway, on the way through town she stumbles upon Salamander, a mage from the Fairy Tail guild, who's surrounded by a crowd of loving female fans. Turns out he's just using magic to lure them near him, Lucy realizes, after the two wanderers from earlier arrive and break her trance. Turns out they were looking for someone else.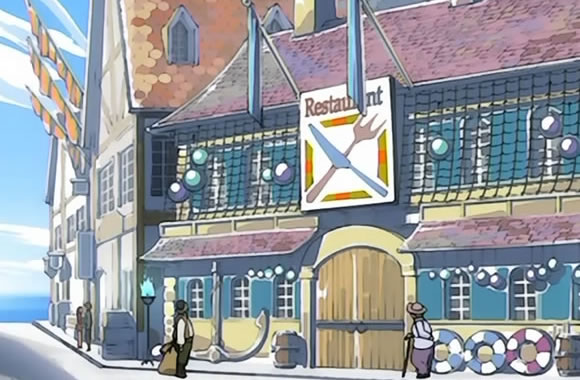 As thanks, Lucy treats them to a meal, and tells them all about her ambitions. How she wants to join Fairy Tail, the guild of her dreams, and become a great mage.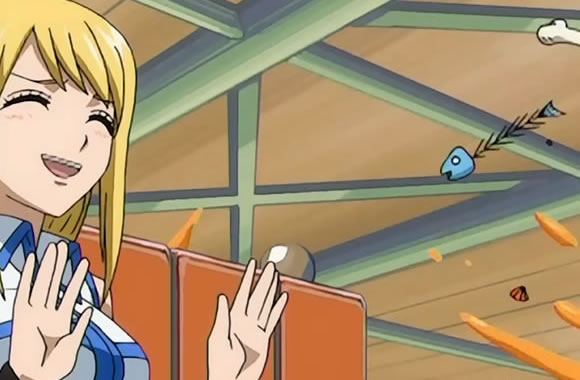 Here they're just eating.
Meet Lucy again, along with Natsu & Happy (friend? mascot?), the two weary travelers from earlier. They can't thank Lucy enough for the meal.
A sample of the many entertaining facial expressions in Fairy Tail.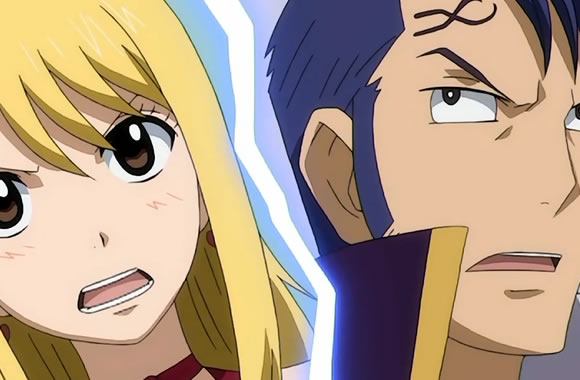 So anyway. Salamander appears again and asks Lucy to join a party. He promises to take her to the Fairy Tail Guild, so she accepts. Turns out he's not who he says he was, and she's about to be sold as a slave when someone falls in through the roof.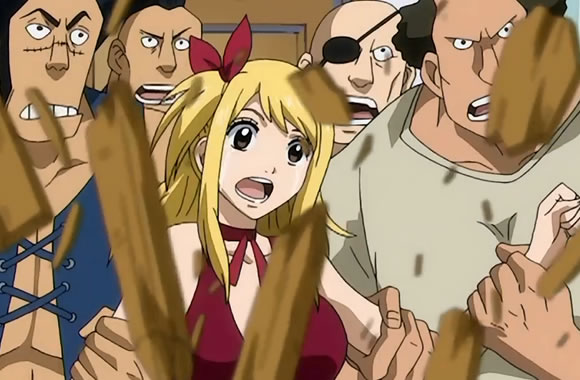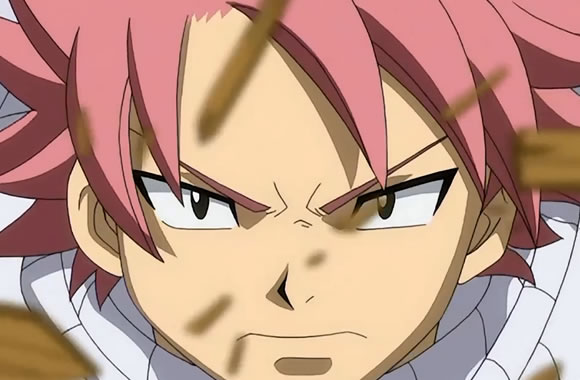 Natsu!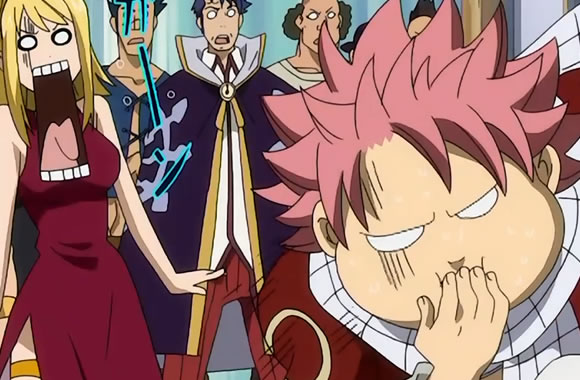 Oh yeah, Natsu can't stand any form of moving transportation. Except for Happy, his (mascot? friend? partner?) who btw flies.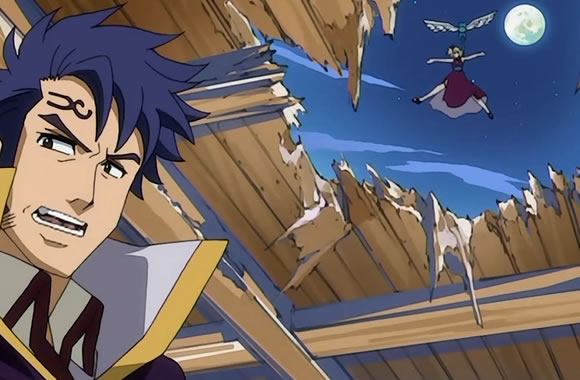 Happy flies away with Lucy. Lucy summons a stellar spirit to throw the boat to land with a tidal wave. Tidal wave below. Lucy summoning spirit below that. After that, Natsu (now on solid ground) finally confronts the fake Salamander and reveals that he is a member of Fairy Tail himself!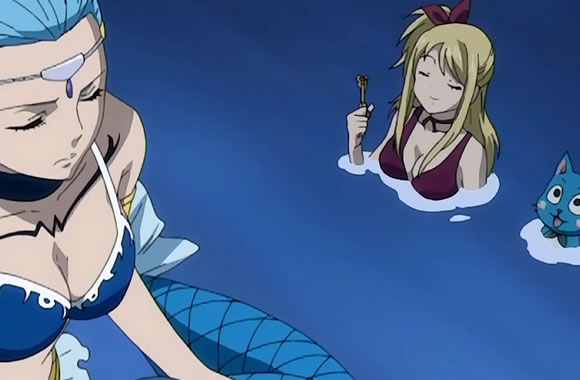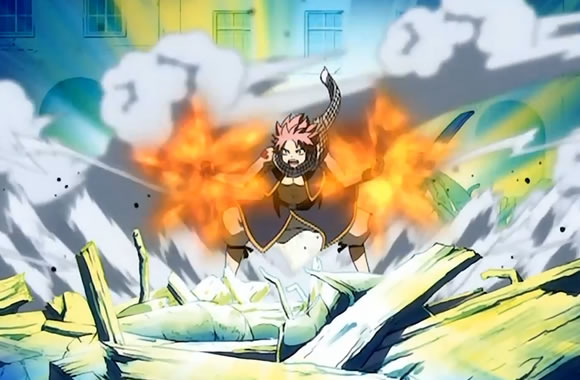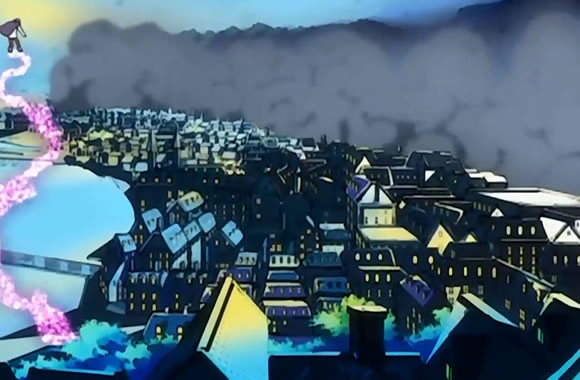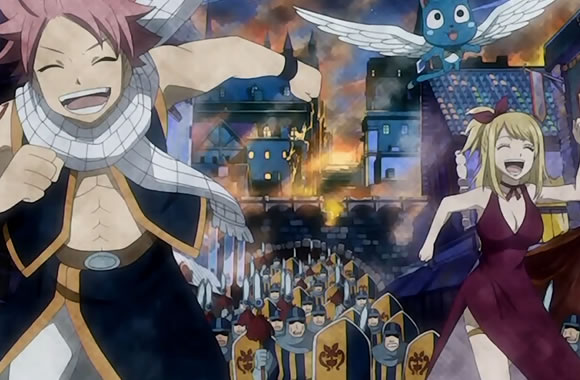 The enemy has been defeated! Unfortunately the city also lies in ruins, and the royal army (or whatever they're called) are closing in. Natsu grabs Lucy and off they go, to Fairy Tail! Happy too. I mean, the cat Happy, but of course they're all happy too. :) Next episode!