Fairy Tail 74
At Fairy Tail the subject is obedience. Lucy does an obedient pose. Moving on...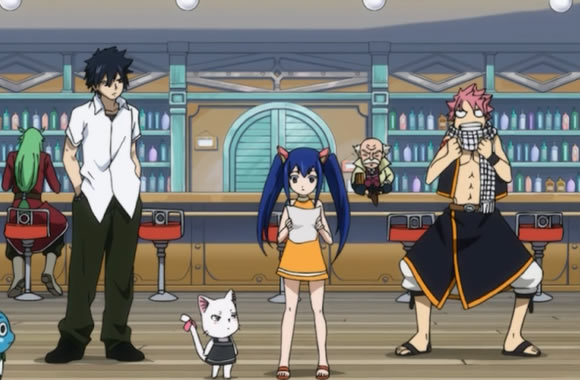 Wendy's about to take on her first mission. It's an act in a play in that theater Natsu & Co stirred hell at earlier. Makarov orders Fried & Happy to keep her company on the voyage. They would go by train, but the train has broken down, so it's time for a long walk.
At rainfall, they shelter in a cave.
Meanwhile, Lucy, Erza & Charle are hot on their tail.
You remember those flying fish that apparently tasted disgusting? Apparently Fried knows how to properly make a decent meal out of them.
Or not.
The other group suffers the same.
While voyaging through the desert, everybody gets together. Apparently Lucy & Co have been getting ahead. Erza sinks down in the sand. Lucy summons Virgo to dig her up. It turns out Erza is holding on to a truckload of acting apparel, she has to let go.
Also, a sandstorm is on the way. And no it's not Natsu.
Erza is in agony, but they dig up her apparel later on.
Wendy defeats the sandstorm with her sky magic.
At long last they arrive at the theater! Unfortunately the director already has a bunch of other actors. Natsu is sick after the train ride, Fried ate too much flying fish, Erza is depressed over her loss, and the rest? Maybe they're just tired. Wendy seems to in shape though, so th director hires her to take the lot of them away from the main entrance.
All is well and ends well. :) More episodes later on, maybe next weekend. Till then.