Fairy Tail 72
Dragon Rider nears the city. Gray has revealed his reasons and Makarov reveals his plan. What plan? Only Gray knows. He goes to tell Erza, but it looks she already figured it out. Have you?
Natsu is getting angry.
Daphne tells of the time she saw a real dragon. Ever since then she's wanted to see one again, that's why she's creating her own. "So you did see a dragon?" Natsu asks her. "No way, it was just a trick of my mind", Daphne says.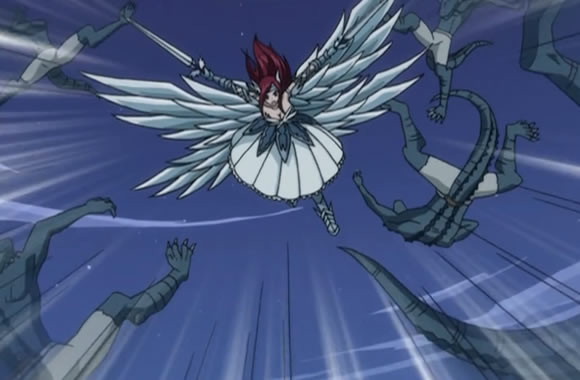 Erza finally beats down the lizard men. Version 3.
Gray & Juvia blast a way a ton of lizard men with their Union Raid.
Erza provokes Natsu. He sees an opportunity to finally beat her!
Daphne can't control the power. Dragon Rider is breaking down.
Gajeel pops out of nowhere and delivers the final blow. Natsu is free.
Fairy Tail mages get together and throw all the fire magic they can at the dragon.
Natsu eats it all! He's getting fired up!!
Before Daphne gets blasted, her eyes tear. "Finally, I see it again!" she says.
Erza bought 50 cakes earlier, 1 for Wendy, 49 for herself. The shop is destroyed but the baker managed to save one. Wendy gets it. :)
And that's why she loves Fairy Tail. Next episode!