Hero Core
Flip Hero returns for the final battle against his nemesis, Cruiser Tetron - but can he really stop the reign of the machine warlord for all time? Like the first game, the graphics are black and white, the controls are simple and the gameplay is easy to learn. The nonlinear game world allows you to tackle the boss machines in nearly any order, or head straight for Tetron's headquarters if you're skilled enough.
That's the official introduction. I won't be giving you any intro of my own, the game is great, and everything you need to know is explained in game, through dialogs below the main game screen. The game can be downloaded here. Refer to this page if you need help or if you're curious about enemies, weapons, etc. This is the first, and at the time of writing, the only HeroCore FAQ online. Enjoy! ;)
Note! This FAQ is still far from complete, it will be added to as I play through the game.

A list of common and uncommon enemies found in the game. They have no official names, so I have numbered them for reference. Note that the amount of shots taken to kill a certain foe may be lower earlier in the game, and grow to increase throughout the levels. The plus sign is used to indicate either this, or that the exact amount is currently unknown. Note that after enemy 20, the "hits to kill" are based on blaster version 2, and after enemy 30, they are based on blaster version 3.
01. This is you. You're strong, but your strength lies in your ability to dodge bullets rather than take them straight on. Good luck on your adventure!


02. This fishlike creature swims across the screen slowly throwing out C-type projectiles.
2 shots to kill.


03. A core generator. It will spit out B,C & D-type projectiles until destroyed.
50+ shots to kill.


03b. The generator when destroyed.


04. This snake will slither up to the same height as you are, and slowly get nearer and nearer. Shoot at the head to kill it.
6+ shots to kill.


05. This foe will follow you and harm you if you touch it.
2 shots to kill.


06. This little creature stays at the top of the screen, runs quickly back and forth, and shoots E-type projectiles downwards.
2 shots to kill.


07. This stationary enemy spits out both projectiles and 02,05 & 09 creatures.
14+ shots to kill.



08. This creature will follow you and harm you if you touch it.
8 shots to kill.


09. This creature will follow you and harm you if you touch it, and spit out some B & C-type projectiles while it's at it.
4+ shots to kill.


10. This stationary dot will harm you if you touch it, and shoot out a ring of C-type projectiles if you shoot it.
1 shots to kill.


11. A strange living grass that moves around and disappears if you touch it. Not harmful.
Unkillable.



12. A small bot that shoots out B & D-type projectiles.
8+ shots to kill.


13. This boss spits out B & C-type projectiles as well as creatures 02 and 06. Its outer shield is invincible, but focus rapid fire on the outer lines and then the core to take it down easily.
30+ shots to kill.


13b. Dead boss.


14. The eliminator - hunter killer, a phantomlike foe with the ability to travel through walls, will shoot out four projectiles in a row and quickly dodge most of your fire. It appears occasionally and disappears suddenly.
??? shots to kill.


15. This vertically moving creature charges up and spits out a deadly F-type projectile beam.
12+ shots to kill.


16. Attached to the wall, this creature throws out B & C-type projectiles.
15+ shots to kill.



17. A creature that looks just like you (well, almost) firing B & D-type projectiles.
16+ shots to kill.


18. This living barrier fiercely spits out B, C, G & H-type projectiles.
??? shots to kill.


19. A snakelike creature that moves as it does in the game (Snake). Shoot it's head to kill it.
10+ shots to kill.


20. This boss will shoot H & B-type projectiles at the beginning, and start firing E-type projectiles as well once you start destroying its heads. Only the heads can be shot at, and you'll need to go through seven of them before the boss is defeated.

50+ shots to kill.



21. This strange pulsating foe will swoosh around the screen (even through walls) attempting to get near you, don't let it touch too much.
10+ shots to kill.



21b. Same foe, now pulsating.


22. Big fish. Spawns little fish, throws out B & D-type proectiles and will occasionally charge up an F-type as well.
20+ shots to kill.



22b. Big fish before it attacks you.


23. Two creatures 04 will pop up. Kill those, and the impenetrable ring around the foe will disappear, shoot out the passageway into its core and after that the four orbs inside it ASAP, just be sure to get out as the ring starts approaching again or you'll be killed almost instantly.

Defeat the two 04s whilst dodging B & D-type projectiles, and repeat the process.
100+ shots to kill.


23b. The boss when destroyed, before he sinks down into the abyss in a rain of special effects.



24. This snakelike creature spawns two creature 21s, and charges up with two F-type beam every once in a while. Shoot at its head to kill
16+ shots to kill.


25. An ugly looking version of an old foe, no19, leaves an infrequent trail of creature no10s behind it & zigzacs the screen trying to near you. Don't get trapped, shoot it's head to kill it.
20+ shots to kill.


25b. Primary view of the same creature.


26. This fierce enemy protects itself with a ring of orbs, throws out a rain of E & H-type projectiles, and the orbs shoot out three parallel F-projectiles every once in a while. Combined with other foes, it's very deadly!
20+ shots to kill.


27. One of the orbs circling foe no26. They cant be killed, but can kill you easily.
Unkillable!


28. This little spawning station spawns a variety of foes at a bothersome rate. It's shield is strong, so shoot at the woundable sides to kill it. It moves around, by the way.
30+ shots to kill.


29. Elite. These jetpack bearing foes look just like you, and attack just like you, they even use the expel spell every once in a while throwing a cascade of missiles around them, just like you. They are also tougher than you are, it seems, though not as good at dodging bullets.
30+ shots to kill.


30. He's strong, and he's not even a boss. He will surround himself with a small field of B & D-type projectiles, and fire an I-type once in a while. Only his head isn't invincible. You'll need good dodging skills to survive.
70+ shots to kill.


30b. After a while he'll enter this special missile shooting pose, and shoot five I-type projectiles in a row! When he looks like this he can't be harmed either.



31. Guardian. Right after the strong guy above this boss will appear, along with two no17 and one no22 in their dormant state, once you do some damage they'll be called to life, and I recommend you kill them off quickly or you'll have trouble dodging all the shots. He shoots D, G, F & I-type projectiles alternatively, and kicks up debris.


Shoot at the orb at his core, eventually it will drift away from his body and start shooting out projectiles of its own, while the rest of the guardian keeps attacking in two parts. Keep shooting!
100+ shots to kill.



32. Rock Smasher. This foe will stay dormant until you enter it, and once you're in, it'll start moving slowly around while rings of B & D-type projectiles drift around you.


Shoot the six core orbs whilst avoiding the projectiles as much as you can.
60+ shots to kill.


33. Spy. Stay out of its vision field and it won't harm you. If it notices you however it will screech and spew out projectiles of G & I-type faster than is healthy for ya!
??? shots to kill.


34. Reaper Drone. This foe surrounds itself with a swarm of no05 creatures, and looks just like one as well. It will swirl around the screen in varied formations, build a new shield when the old one disappears or after having thrown out a few projectiles. It's not very strong, but the shield of foes gives it good cover.
30+ shots to kill.


35. Grand Mother. Like the foe above, this creature is one of the grand guards in the factory. She spawns in total four no28 creatures twice and swirls a few indestructible orbs around her each time you destroy one. For each two you destroy one of her cores is exposed and you can shoot it.


30+ shots to kill.


35b. Standalone view.


36. Star Splitter. This enemy swings around with two long arms, spitting out projectiles. Just watch out for those arms and fire at the four cores at it's base, it will lose its defensive shield when they are down, and you can take it out easily
40+ shots to kill.


36b. Standalone view.



37. Cruiser Tetron. The final foe. He's strong, and equipped with two unique projectile types, J & K (it's not a joke).
100+ shots to kill.



Type classifications are not official. Images are simply given a letter for better reference in the enemy section above. Keep in mind that the projectiles all have animations in the game, so they may not always look as they do here, even though they should be easy to recognize. Also note that your suit will easily overheat when hit by any projectiles below type E.
A-type.
This is the projectile you fire.


A-type 2. This is your projectile at level 2.


A-type 3. This is your projectile at level 3.


B-type.


C-type.


D-type.


E-type.


F-type.



G-type.



H-type. Following.


I-type.



J-type. Partly following.



K-type.


Debris.



This section serves as a quick and easy reference to most notable material elements and objects in the game.

01. This is an entrance, fly through it to get somewhere.


02. Solid wall, you can't get through here. If you don't see anything, that's because it's white. :P


03. Emtpy space won't hinder you though.


04. Rain will not harm you, but will overheat your system, hindering you from shooting.


05. Water works much the same way, though the density will overheat your system at a faster rate.



06. Locked door. Kill all creatures in the current room to unluck it.


07. Stand on a save icon and press the mentioned controls to save your game. You can also warp to a different save location by pressing both fire keys at the same time, this will open up a map allowing you to chose your destination.


08. Wall. Not solid, yet not destroyable with A-type projectiles. Once you've beat the first boss you can use your blade to destroy these.



09. This marks the entrance to either a save room or a major new area.


10. Pipes. Can be cut through with Blade level 2.


11. Barrier. Kill a core generator to clear passage, do NOT touch this wall while it's up, it's pure lethal.


12. If you can get inside one of these blocks, they may transport you across and into an otherwise unreachable area.


13. A dormant creature 17.


14. Computer. There are eight of these in game which you can pick up.


15. Sliding panels. Get trapped and you will be warped back to the start of the room you are in.


16. Scanner. Information on what is scanned will be given to you in game.



17. Ship. They provide both shelter and information, enter to temporarily pause game.


18. Dormant creature no22.


19. A mighty dormant creature.


20. An eye that moves.



21. Decoration.


22. Special Computer. Gives you vital information!

30. Blade upgrade (shield or alternative weapon).



31. Blaster upgrade (your gun).


32. Suit upgrade (your clothing).



33. Pattern scanner (lets you warp between ALL savepoints).

Upgrades
Blaster level 1 - This is what you start out with.
Blaster level 2 - Stronger.
Blaster level 3 - Much stronger. Limit to 6 shots on screen at the same time.
Blade level 1 - Cut walls, deflect light attacks.
Blade level 2 - Cut pipes, deflect medium attacks.
Blade level 3 - More power, deflect big attacks.
Suit level 1 - Twice as resistant.
Suit level 2 - No longer overheats.
Suit level 3 - Twice as resistant, again.
Scanner - Warp to Save Points you haven't been to.
Expell - Press Left Right Up Down Fire to clear away all smallfry.


No time for captions, but an image does say a thousand words. ;)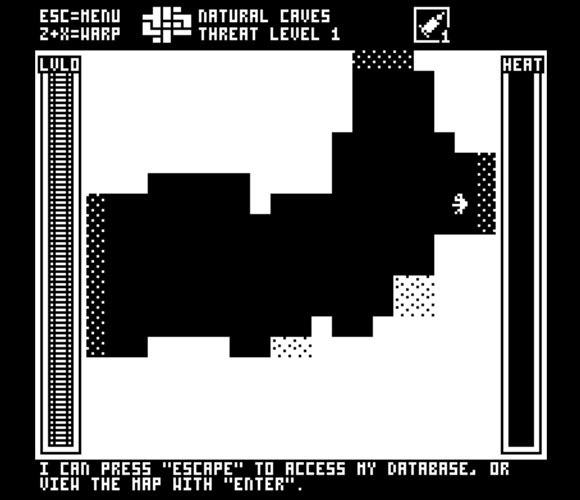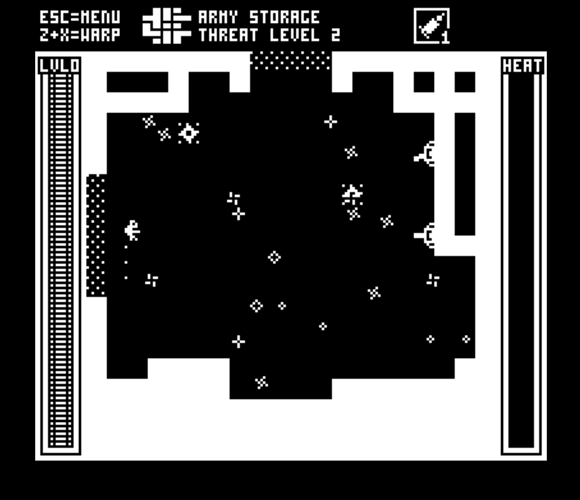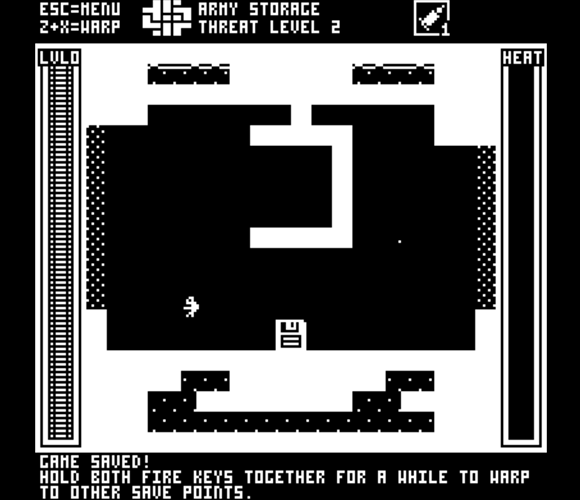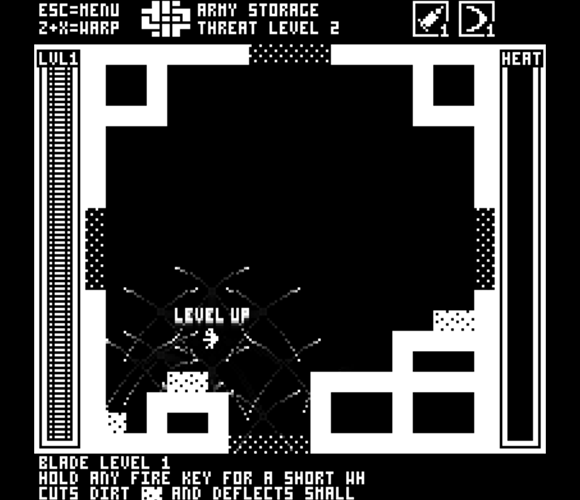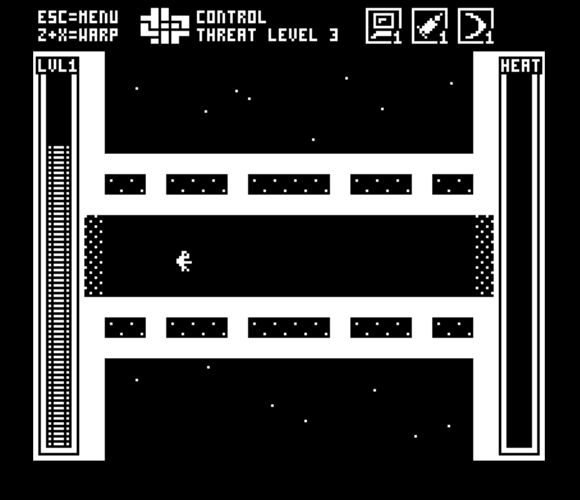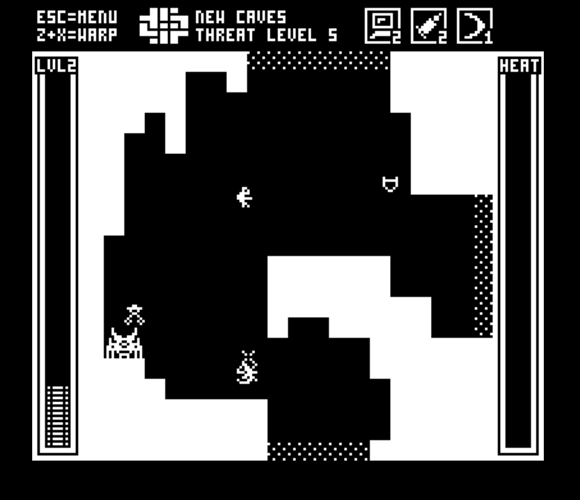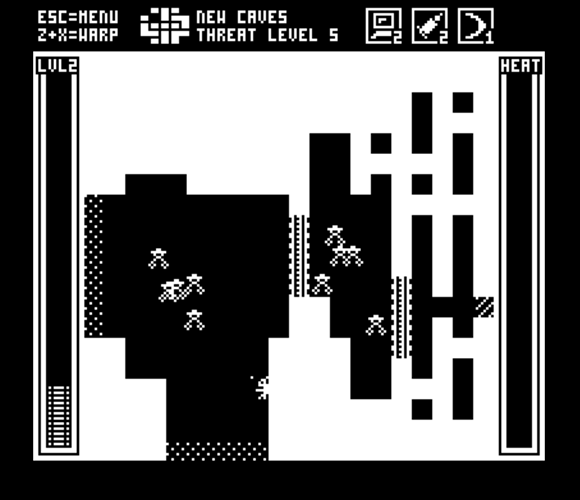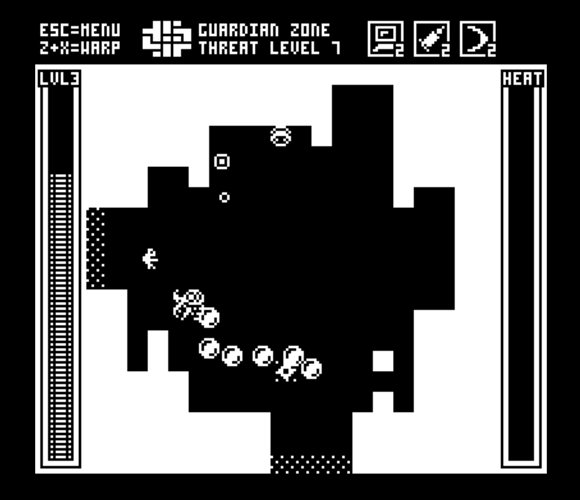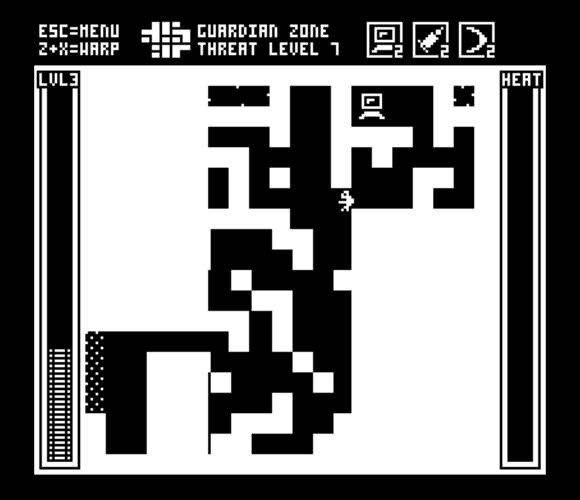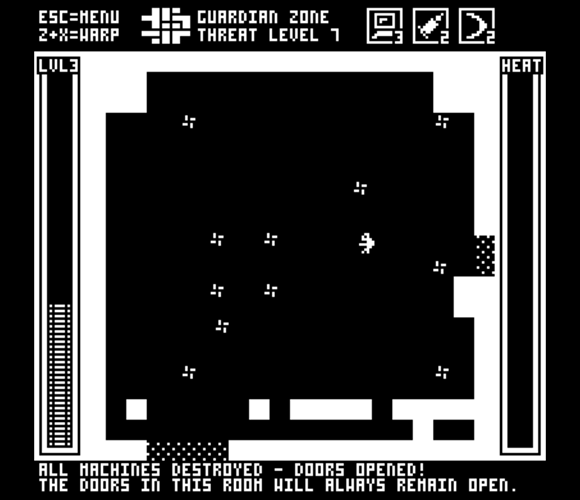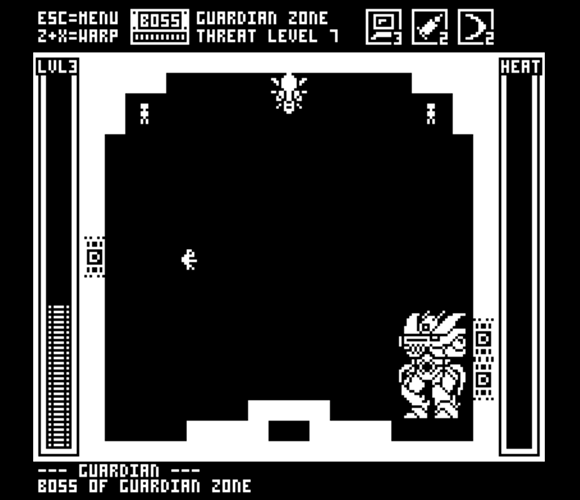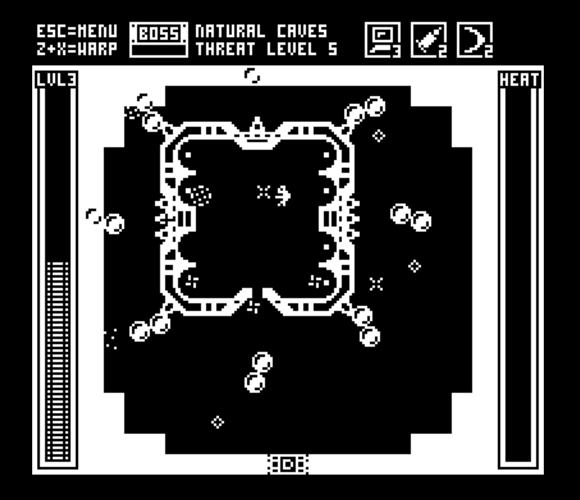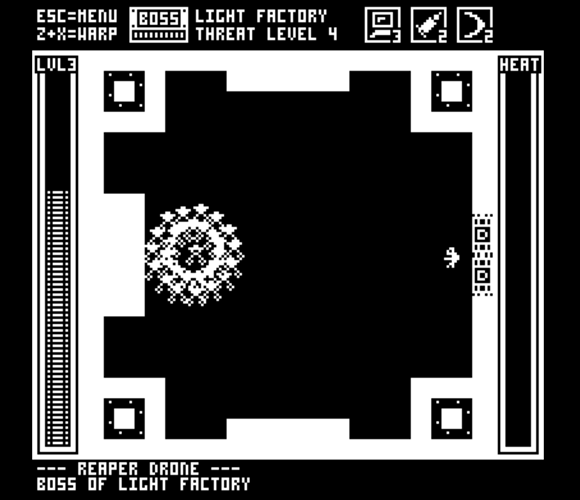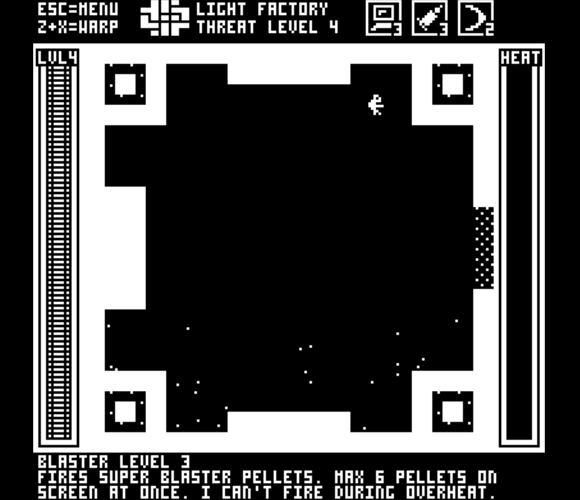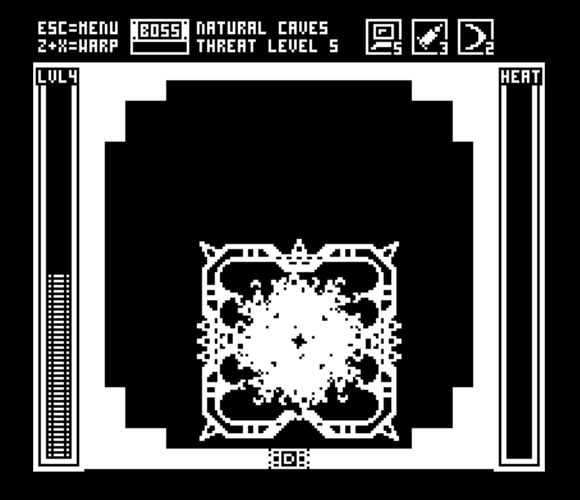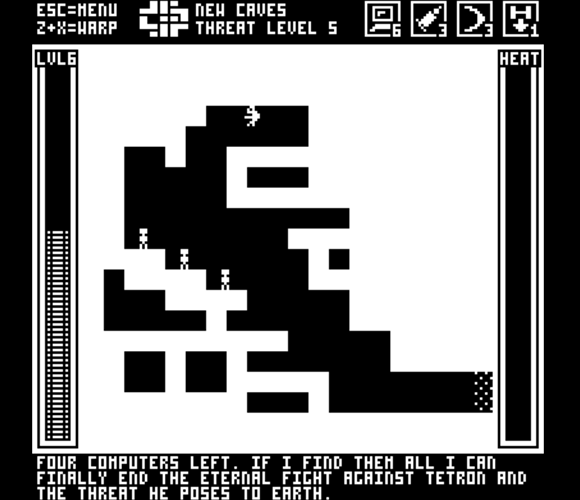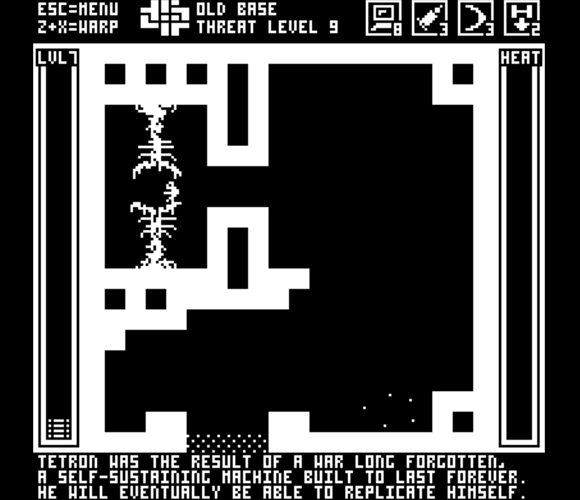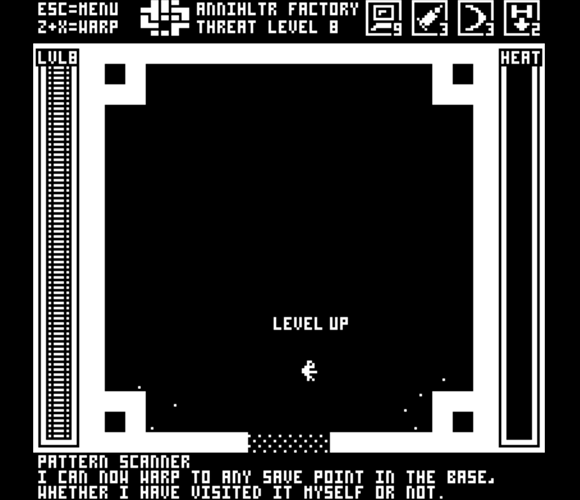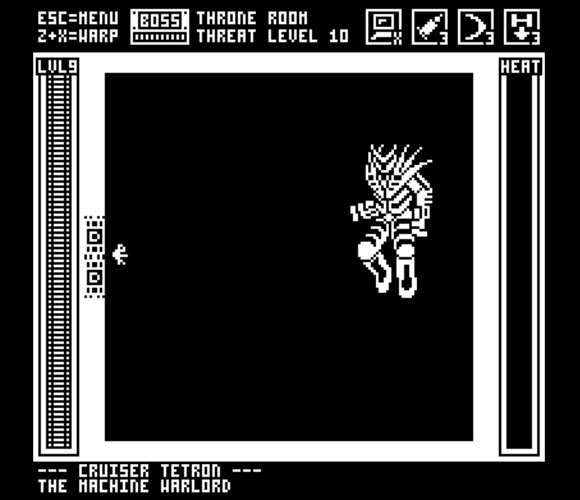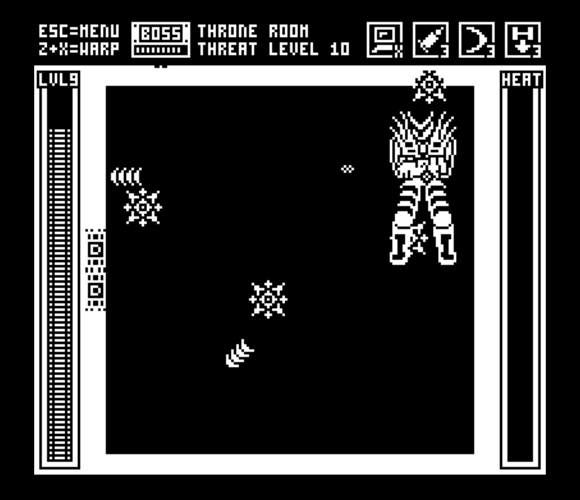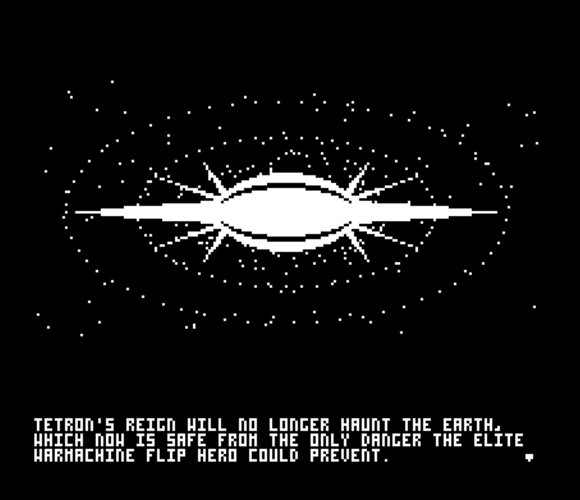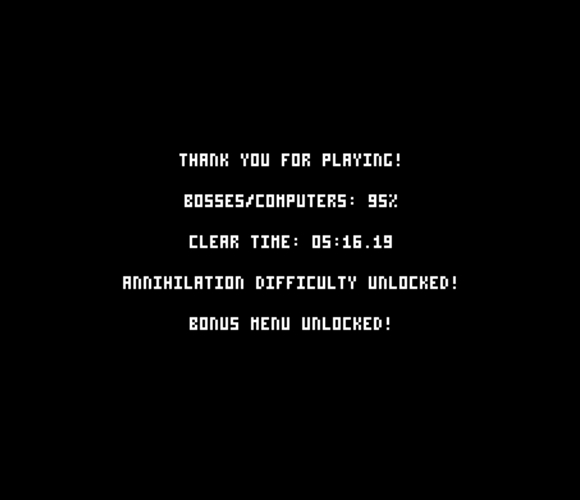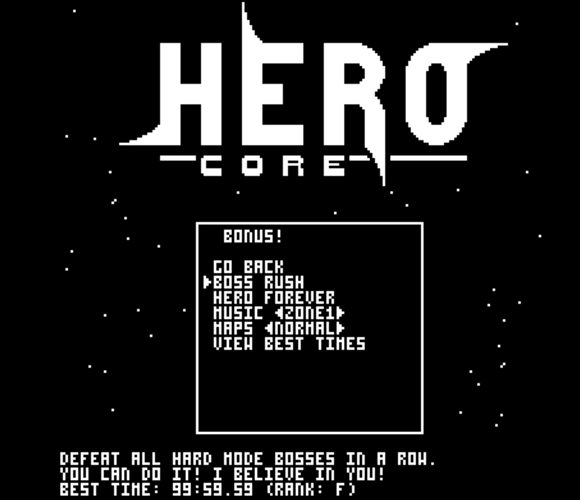 If you're having a hard time, keep in mind ...
- If the enemy does not move around freely (attached to the wall, for example), it is generally lethal to touch.
- Use auto-shoot when you need to focus more on dodging than on shooting.
- Pay attention to the in game instructions if it's your first time playing.